Alpine Meadows will add a new $10 million quad chairlift next season as part of improvement program for Squaw Valley Alpine Meadows.
Alterra Mountain Company, owners of Squaw Valley Alpine Meadows and 14 North American ski resorts overall, announced Monday (March 4) that it would be making more than $17 million of capital investment to the Tahoe ski resorts that go under one name. In addition to the new detachable high-speed chairlift at Alpine Meadows, Squaw Valley will add new surface lifts in the High Camp area for the 2019-20 season.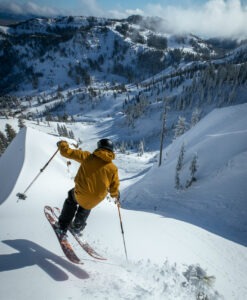 Construction of the Alpine chairlift will begin this spring, as soon as conditions allow.
"Alpine Meadows is a fantastic place to learn how to ski, and I am proud that we are continuing to foster that quality," said Ron Cohen, president and chief operating officer at Squaw Valley Alpine Meadows. "In addition to those clear benefits, the new lift extension will directly connect guests to some of Alpine's best intermediate and expert terrain. The lift's location is favorable in high winds and inclement weather and the extension creates access to the Sherwood area without the need for the current multi-step process that requires a long and sometimes nearly impassable traverse."
Alterra Mountain Company plans to invest $181 million in capital improvements across its 14 North American mountain destinations for the upcoming year. These capital projects are part of an ambitious improvement plan totaling more than half a billion dollars through the 2022-23 season.
The company says the improvements are focused on elevating the guest experience at all destinations, after an initial $170 million investment for the 2018-19 season. At Squaw Valley Alpine Meadows, improvements focus on guest access to amenities and terrain for all ability levels.
The investment follows last year's $1.4 million renovation of the Alpine Meadows Base Lodge
Alpine Meadows chairlift: A new high-speed detachable quad chairlift will replace the existing Hot Wheels triple chair, adding a mid-station at the current terminus and a 1,300-foot extension up to the east ridge of Ward Peak, landing between Art's Knob and the top terminal of Sherwood Express.
A total ride time of about five minutes will give skiers and snowboarders direct access from the base area to both the Alpine and Sherwood sides of the ski area. The new express chairlift will be a four-minute ride from the Alpine Meadows base area to the mid-station, providing convenient access to some of the area's best low-intermediate terrain.
At the top terminal, just one-minute's ride from the mid-station, guests will have immediate access to the Sherwood Cliffs, Art's Knob and all of the terrain served by Sherwood Express, which boasts the closest view of Lake Tahoe anywhere in the resort. Here, intermediate and expert guests can experience one of the mountain's most spectacular areas, with wide open glades and access to the secluded Ice Bar, an on-snow hangout that comes alive for spring skiing.
"The new lift will benefit the Alpine Meadows experience on many levels," Cohen said. "Terrain currently served by Hot Wheels is frequently used by learners and ski and ride school as the next progression after the beginner terrain in the base area. A detachable lift will make loading and unloading much easier for these groups, and the ride time will be more than cut in half."
Squaw Valley enhancements: Improvements to on-hill connectivity will come with the new surface lifts in the High Camp area. A new rope tow will create fast and convenient access to High Camp, avoiding the need to traverse uphill to get to the High Camp facilities.
At 8,200 feet, the recently renovated High Camp is home to multiple dining locations, the High Camp Pool & Hot Tub, and a 30-acre beginner area, all with panoramic views of Lake Tahoe and the Sierra Nevada.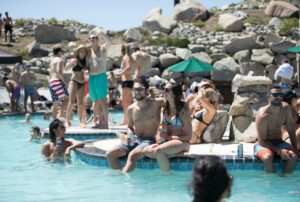 High Camp's extensive beginner terrain will be further enhanced for 2019-20 season with infrastructure improvements, including a new "magic carpet" surface lift, snow fencing, and other skier experience enhancements that will help novices and Ski & Snowboard School students to fully utilize the terrain with less interference from other skier traffic.
Construction will begin this summer, as soon as conditions allow.
"The $17 million in capital improvements by Alterra Mountain Company represents a strong commitment to continue to invest in Squaw Valley and Alpine Meadows, optimizing our infrastructure in a way that provides great access for everyone, whether you are a seasoned veteran or a first-time visitor," Cohen said. "This big investment at Alpine Meadows shows an enduring focus on the family-friendly atmosphere, great snow conditions and incredible terrain that make Alpine one of Tahoe's favorite resorts. We are coming into the second half of what has proven to be an incredible season so far, and with these changes on the plate, the outlook for 2019-20 is wildly optimistic."