There are currently no ski resorts open in Lake Tahoe. However, with 4 feet of snow perhaps dropping by Wednesday, there's little doubt the Tahoe ski season will be underway very soon.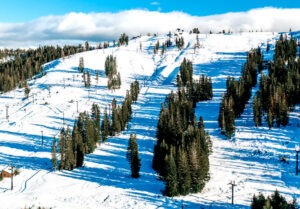 A Winter storm watch has been issued for the Sierra from Sunday evening (Nov. 6) through Wednesday morning by the National Weather Service (NWS) in Reno, which expects to be measuring snow in feet – not by the inch. The NWS believes 4 feet of snow will drop above 7,000 feet and 1 to 2 feet below at lower elevations.
The storm will likely be a wicked one. Gusty winds are expected up to 55 mph with 100 mph gusts possible along Sierra ridges Sunday evening into early Monday morning. The strong winds could cause tree damage.
Right now, Tuesday's forecast is 100 percent with up to 18 inches possible throughout the day. Daytime high temperatures will be about 15 degrees below seasonal averages.
FIRST TAHOE STORM SIZABLE: Last week the first major snowstorm hit Tahoe ski resorts, leaving behind a high of 12 inches of snow at two of the region's resorts.
Both Sierra-at-Tahoe and Tahoe Donner received a foot of snow at their highest elevation from a storm that started Tuesday, sputtered for a while, then concluded in the early-morning hours of Thursday (Nov. 3). Sugar Bowl received 11 inches from the storm, while Boreal Mountain and Soda Springs each recorded 9 inches.
Mammoth Mountain received 16 inches of snow last week and opened Saturday (Nov. 5). It was the first California ski resort to open for skiing and snowboarding this season.
"Historically, Thanksgiving has really been the kick-off to the season. But after last year (mid-December openings), if we can open just a few days early, that will be absolutely fantastic for skiers and riders," Tahoe regional spokesperson Kevin Cooper said.
Cooper says if the region can average over 100 inches of snow a month from now through March, it could be an incredible season. He says, so far, they are off to a good start.
"Snow levels and amounts are all lining up to deliver a solid starter base for the resorts and backcountry enthusiasts," Cooper said.
SNOWFALL ARRIVED LATE LAST SEASON: Tahoe ski resorts are definitely not hoping for a repeat of last season when there was virtually no skiing or snowboarding during the important Thanksgiving holidays.
One can blame Mother Nature for the barren slopes last season. There was a promising snowfall in late October, allowing both Palisades Tahoe and Boreal to open prematurely Oct. 29. However, unseasonably high temperatures and rain over the Donner Summit halted skiing at both resorts following the Halloween weekend.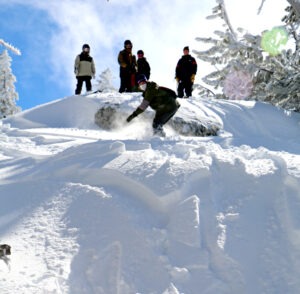 Tahoe ski resorts were almost unanimously closed until the second week of December when the snow finally arrived with a huge series of storms. However, as of Dec. 3, 2021, the Tahoe region's 14 ski resorts had a combined one legitimate lift open for skiing and snowboarding.
TRAVEL ISSUES THIS WEEK: Travel could be extremely difficult this week due to the hazardous conditions. The NWS advises if traveling, be prepared for long delays and carry an emergency kit that includes extra food, water and clothing. The latest road conditions can be obtained by calling 511.
"Be prepared for whiteout conditions and sub-zero wind chills along the foothills and ridgelines of the Sierra," the NWS warning said.
TAHOE SKI RESORT OPENING DATES
Sierra-at-Tahoe: TBA
Tahoe Donner: Dec. 9
Sugar Bowl: Nov. 25
Boreal: TBA
Soda Springs: TBA
Palisades: Nov. 22
Homewood: TBA
Mt. Rose: TBA
Diamond Peak: Dec. 8
Northstar: Nov. 18
Kirkwood: Dec. 2
Heavenly: Nov. 18
Granlibakken: Dec. 18