As expected, the first major snowstorm hit Tahoe ski resorts this week, leaving behind a high of 12 inches of snow at two of the region's resorts.
Both Sierra-at-Tahoe and Tahoe Donner received a foot of snow at their highest elevation from a storm that started Tuesday, sputtered for a while, then concluded in the early-morning hours of Thursday (Nov. 3). Sugar Bowl received 11 inches from the storm, while Boreal Mountain and Soda Springs each recorded 9 inches.
To date, there are no Tahoe ski resorts open. But with more snow on the horizon and low evening temperatures allowing snowmaking, it would not be a surprise if one of Tahoe's ski resorts opened soon.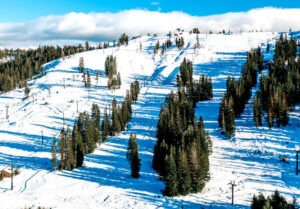 MORE SNOW IN THE FORECAST: Additional snow days are likely to take place next week, starting Monday (Nov. 7) and continuing through Wednesday. In addition, next week's temperatures are projected to be in the teens, ideal for snowmaking operations.
Overnight temps have been chilly in the Tahoe region this week, with lows dipping into the mid-20s some nights. Sugar Bowl says it jumped into action and fired up its snowmaking system.
"From now through the start of the 2022-23 season, our team will be pumping out snow at every possible moment that conditions allow," a press release from Sugar Bowl stated. "Opening day is scheduled for Friday, November 25 (conditions permitting) and until then, our whole team is busy preparing for a great start to the season."
MAMMOTH OPENING DAY: Mammoth Mountain received 16 inches of snow from this week's storm and is planning to open Saturday (Nov. 5), a week earlier than its projected opening. It will be the first California ski resort to open for skiing and snowboarding this season.

SNOWMAKING IN TAHOE: At least one ski resort – Northstar California – began making snow roughly 10 days ago – already had gotten its snowmaking operations started. With the snow arriving and weather conditions ideal, expect other Tahoe ski resorts to also fire up their snowmaking equipment this week.

Weather and conditions permitting, both Heavenly and Northstar have plans to open for skiing and snowboarding Friday, Nov. 18, Kirkwood has a planned opening Friday, Dec. 2.

SNOWFALL LATE LAST SEASON: Tahoe ski resorts are definitely not hoping for a repeat of last season when there was virtually no skiing or snowboarding during the important Thanksgiving holidays.

One can blame Mother Nature for the barren slopes last season. There was a promising snowfall in late October, allowing both Palisades Tahoe and Boreal to open prematurely Oct. 29. However, rising temperatures and rain over the Donner Summit halted skiing at both resorts following the Halloween weekend.

Tahoe ski resorts were almost unanimously closed until the second week of December when the snow finally arrived with a huge series of storms. However, as of Dec. 3, 2021, the Tahoe region's 14 ski resorts had a combined one legitimate lift open for skiing and snowboarding.
TAHOE SNOW REPORT, OPENING DATE
Sierra-at-Tahoe: 12 inches, TBA
Tahoe Donner: 12 inches, Dec. 9
Sugar Bowl: 11 inches, Nov. 25
Boreal: 9 inches, TBA
Soda Springs: 9 inches, TBA
Palisades: 8 inches, Nov. 22
Homewood: 8 inches, TBA
Mt. Rose: 7 inches, TBA
Diamond Peak: 4 inches, Dec. 8
Northstar: NA inches, Nov. 18
Kirkwood: NA inches, Dec. 2
Heavenly: NA inches, Nov. 18
Granlibakken: NA inches, Dec. 18