Despite the implications of the coronavirus, Tahoe ski resorts are making plans for the 2021 ski season.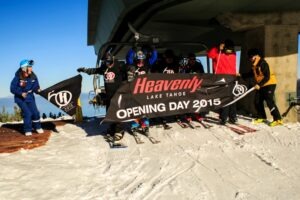 Barring something unforeseen this season, skiers and snowboarders will again be heading to Tahoe ski resorts in large numbers, crowding the I-80 and Highway 50 corridors on the weekends.
Of course, once at a Tahoe ski resort this winter there will be plenty of precautions caused by the deadly pandemic that abruptly shut down the ski season – not just in Tahoe, but nationwide – by mid-March 2020. With Covid-19 raging all over the country, it wasn't long before the ski industry reluctantly understood the season had ended.
Six months after those shocking circumstances, the pandemic has subsided somewhat in Tahoe and throughout Northern California. However, it could quickly return with a vengeance as we enter flu season.
Although October is four days away, it still feels like summer in much of Lake Tahoe, where the temperatures will be in the low 80s next week. That's hardly ski-season weather. Yet, anyone who knows even just a little about Tahoe's weather understands it can quickly change course.
Skiing in October seemed highly unlikely this time a year ago when temperatures were higher than usual and precipitation was nonexistent. Yet the temperatures gradually began to drop in October, dipping to the freezing level at night. And like many past ski seasons, the Tahoe ski season kicked off with Mt. Rose Ski Tahoe (in Nevada) making enough snow to officially open Oct. 25.
This was the fourth straight season that Mt. Rose was the first Tahoe-area ski resort to kick off the season. It was the earliest the resort, located off Mt. Rose Highway near North Lake Tahoe, opened for skiing and snowboarding. The earliest previous date was Oct. 26, 2017.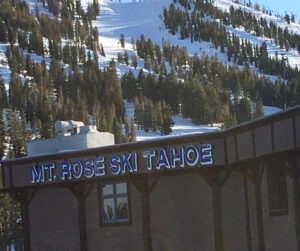 Because it likes the distinction, Mt. Rose will again be looking to make it a fifth consecutive season as the first Tahoe ski resort to open. The mid-level ski resort enjoys the tradition it has established for offering a six-month season, and that will be the goal again this year.
All of the mid-range or larger ski resorts in Lake Tahoe rely heavily on their snow-making capability to get the season started.
Although Mt. Rose will likely be first again this season, other Tahoe ski resorts traditionally get going by November – weather depending. Last Thanksgiving, there were six Tahoe ski resorts running lifts. Joining Mt. Rose were Squaw Valley, Alpine Meadows, Boreal Mountain, Heavenly Mountain and tiny, family-friendly Soda Springs.
While some resorts were making snow, the real white stuff arrived as a Thanksgiving Day wish that came true. The Tahoe region was hit hard over three days prior to the holiday. Many Tahoe ski resorts received more than a foot of snow by Wednesday (Nov. 27) morning and the dumping continued into the afternoon and evening. And that ignited the season as many other resorts followed with early December openings.
Tahoe ski resorts are currently gearing up for this ski season and unveiling some of the changes in store. In subsequent stories over the next month, Tahoe Ski World will be offering some pertinent information regarding what to expect this ski season.