So, the plans are to finish skiing or snowboarding early, then find a suitable place in South Lake Tahoe to go watch the Super Bowl.
For Northern Californians, skiing and watching the Super Bowl in South Lake Tahoe takes on added meaning this year because the San Francisco 49ers will be making their first appearance in the big game since 1994.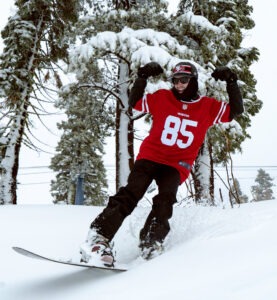 There are lots of choices in picking that "cool" location to watch the game. Kickoff for the San Francisco 49ers vs. the Kansas City Chiefs is 3:30 p.m., so there's plenty of time to ski or ride Sunday.
We've compiled a list of parties and activities in South Lake Tahoe for Super Bowl Sunday, which is being playing at the Hard Rock Stadium in Miami.
Super Bowl at the Casinos
Super Bowl at South Shore bars
Local bars and taverns all over the South Shore and will feature drink and food specials, raffles and giveaways. And of course, there will be at least one big screen TV for viewing of game.
The list includes: