A modest amount of snow has already dropped at a few California ski resorts, signaling that the 2023-24 ski season is nearing.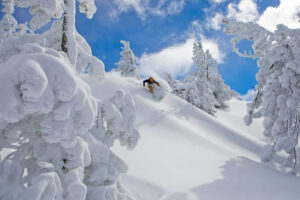 Jessica Weaver of Ski California, a familiar name at most of the state's 35-member ski resorts, has put together a handy preseason guide that touches on last year's incredible snow totals and what's likely in store for this season in regards to individual resorts.
With the weather already starting to signal winter's imminent return, ski resorts are preparing for the upcoming season with new lifts, major renovations, the return of signature and industry events, and more.
In addition, Ski California will launch a new website, build on the success of its digital Mountain Safety Guide with new video content focused on deep snow safety, and host its sixth annual Ski California Safety Day on Jan. 27, 2024.
Last winter, California ski resorts experienced their second snowiest on record. Thanks to a record 885 inches of snow, Mammoth Mountain had an historic 275-day season that ended Aug. 6. It was the second-longest season in the resort's history.
Skiers and snowboarders definitely took advantage of the abundance of snow. Cumulatively, Ski California resorts recorded over eight million visits during the 2022-23 season, making California the second most visited state in the country for skiing and riding.
"Skiing and snowboarding remained incredibly popular activities last winter, and the tremendous snow conditions only added to the experience," said Michael Reitzell, Ski California president. "This season, resorts in California and Nevada have continued to invest in the mountain experience and are gearing up for another phenomenal year."
TAHOE SKI RESORTS: Below are highlights of what's new this season and projected opening dates (weather and conditions permitting).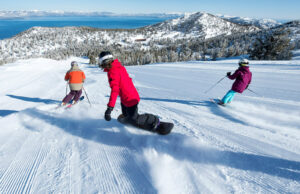 BOREAL (opening Nov. 17): The popular Tahoe-area resort that has night skiing is offering GoTime Tickets, where skiers or riders pick the time they want to start and can save money by choosing a later start time in the day. The resort is also offering Play Forever Fridays once a month with $25 lift tickets for all – $5 of each ticket sale goes back to a local nonprofit.
DIAMOND PEAK (opening Nov. 9): Diners in the Base Lodge Provisions food court will notice the newly remodeled space, redesigned for function and aesthetics up front, and efficient food storage and prep areas in the back.
GRANLIBAKKEN (opening Dec. 15): The modest resort has a terrific sledding hill and is a great location for snow play. It also serves as an excellent place for skiers to learn, thanks to a lone tow rope that carries people to the top of a small hill for the quick downhill trek.
HEAVENLY (opening Nov. 17): This year skiers and riders can use the new My Epic App to skip the ticket window and go straight to the lifts. Mobile tickets and passes will be scanned hands-free, straight from your pocket using Bluetooth Low Energy technology.
The resort will host the Toyota Air and Après March 1-3, featuring professional athletes showcasing their gravity-defying tricks on a massive 45-foot jump during a light show at the bottom of the World Cup run.
HOMEWOOD (opening TBA): Now operated by Discovery Land Company, the resort will once again be a convenient mountain with limited crowds and stunning views of Lake Tahoe.
This season Homewood will introduce refreshed culinary offerings at its dining venues and enhanced on-mountain snow experiences.
KIRKWOOD (opening Dec. 1): Last season the resort's springtime Slush Cup tradition returned and will continue this spring. Other community favorite events returning include Banked Slalom and Vertical Drop.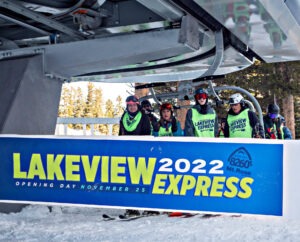 Kirkwood skiers and riders can use the new My Epic App to skip the ticket window and go straight to the lifts.
MT. ROSE (opening Nov. 9): This season guests will see a new deck at the top of the Lakeview Express lift, new furniture and a remodeled Lodgepole Cafe, a heated ramp from the parking lot to the ticket windows at the main lodge, and new technology to improve the experience on the resort's website.
Mt. Rose has purchased two new PistenBully snow grooming machines and two new snowmaking towers.
NORTHSTAR CALIFORNIA (opening Nov. 17): New this season is Vous, a café-bar in the Village at Northstar, featuring service from first chair to last call.
Like the two other Vail Resorts in Tahoe (Heavenly, Kirkwood), Northstar is implementing the new My Epic App to skip the ticket window and go straight to the lifts.
PALISADES TAHOE (opening Nov. 22): The resort will again host one of four U.S. stops of the Audi FIS World Cup. The Feb. 23-25, 2024 competition features world-class skiers, music headliners, fireworks, parades and more.
Major investments include a multi-million dollar makeover of the Gold Coast mid-mountain lodge and the creation of new dining options, a new Funitel haul rope, five new PistenBully snowcats, and the acquisition of two new properties dedicated to housing resort employees.
SIERRA-AT-TAHOE (opening Dec. 2): Still recovering from the Caldor Fire that burned through the resort in 2021, this season a new maintenance shop will house Sierra's Mountain Operations department, day care services will return, the main road has been repaved, and parking lot improvements have been completed.
The resort will offer a new special rate 2023-24 season pass for First Responders.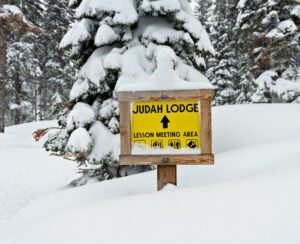 SODA SPRINGS (opening Nov. 24): Play Forever Fridays happen once a month with $25 lift tickets for all. Note that $5 of each ticket sale is going back to a local nonprofit.
SUGAR BOWL (opening Nov. 24): The venerable resort off Interstate 80 is celebrating its 85th anniversary. It will incorporate new snow grooming and transportation equipment, a ski racing speed venue, a warming hut, and a sweetened offering at the Sugar Rush tubing and snow play park.
TAHOE DONNER (opening TBA): The Downhill Ski Resort will expand its kids and senior race programs. At the Cross Country Ski Center, a new XC Masters Training Group will take place Friday mornings.
ADDITIONAL RESORTS
MAMMOTH (opening Nov. 10): The Canyon Express (Chair 16) high-speed detachable quad chairlift has been replaced with a state-of-the-art Doppelmayr D-Line Series 6-Pack detachable high-speed chairlift.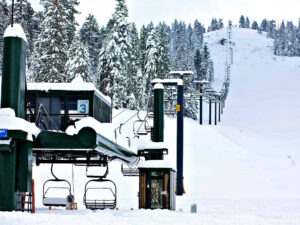 At Woolly's Tube Park, Phase 2 of the master plan buildout is underway with improvements, including the start of construction of a full-service Day Lodge, Wiegand Alpine Coaster, and the addition of summer tubing lanes for 2024.
DODGE RIDGE (opening Nov. 24): The resort is now part of the Cali Pass, a new multi-resort season pass with unlimited access to Mountain High, Dodge Ridge and China Peak, plus free membership in the Powder Alliance.
The resort will introduce the new Cali Pass App and Dodge Ridge Base Map with map tracking. New RFID gates give guests the ability to go straight to the lift, and a new rental system and reservations make for a more efficient check-in.
BEAR VALLEY (opening Nov. 17): Guests will find a new bar at the south end of the day lodge, and two new winch cats will offer consistent grooming of Grizzly Bowl and Snow Valley.
CHINA PEAK (opening Nov. 17): A new quad chair out of the base area to mid-mountain increases China Peak's out-of-base lift capacity by 30%. New food service will be offered at the Mainstream Base Lodge.
China Peak will be part of the Cali Pass, which includes 17 resorts mostly throughout the west.