What's new this year at Squaw Valley Alpine Meadows ski resort? There are numerous additions for the 2018-19 ski season.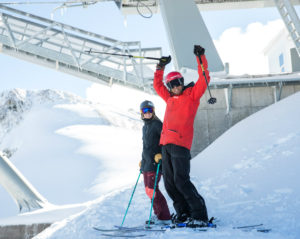 Opening day is creeping closer and closer for Squaw Valley Alpine Meadows ski resort, which opens for skiers and snowboarders Friday, Nov. 16, weather permitting. The resort is debuting the Ikon Pass that offers access to 36 destinations around the globe. Ikon Pass destinations span three continents, four Canadian provinces, and 12 states, with four resorts in California – Squaw Valley Alpine Meadows, Mammoth Mountain, June Mountain and Big Bear Mountain Resort.
Below are some of the new things this season at the Lake Tahoe ski resort.
Expanded Snowmaking at Alpine Meadows: The resort has been expanded to include the Subway beginner area, allowing this critical teaching area to open earlier in the season. The Subway area is home to Achieve Tahoe, a local non-profit adaptive sports program that provides year-round outdoor recreation opportunities, including snowsports instruction to children and adults with physical, sensory and intellectual disabilities.
With expanded snowmaking in the area, skiers and riders will have more consistent conditions and access to the Subway chairlift and teaching terrain. Additionally, guests parked in the lower Alpine Meadows parking lot near the Subway area will have more efficient access to the Alpine Meadows base area via Subway chair.
Renovations at Alpine Meadows Base Lodge: The Alps-inspired lodge will re-open with $1.4 million in renovations. The renovated food court and expanded marketplace will offer house-made breakfast burritos and fresh pastries, a large selection of grab-and-go salads, snacks, and a self-serve barista bar will feature espresso, cappuccino and lattes.
Chair Bar will open in the main lodge space and offer additional bar seating, and a new family seating area is adjacent to the grand fireplace. Three new large TVs and tall beer garden-style tables at Alpine Bar welcome the sports bar crowd.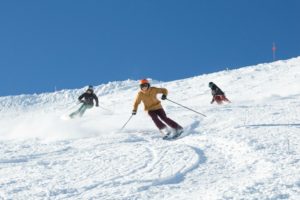 Pop-Up Private Ski Lessons: New Pop-Up private lesson for skiers and riders offers on-demand instruction by the hour. Guests will connect with a certified professional Squaw Valley Alpine Meadows instructor at the top of the Funitel at Squaw Valley or at the base of Alpine Meadows and hit the snow for one-on-one instruction and priority lift line access.
Lessons are available daily after 10 a.m. on a walk-up basis only. The Pop-Up private lesson is $119 per person, per hour and $49 to add a maximum of one additional learner.
Snowboard Lessons for Kids: Snowboard instruction for kids under 5 will include access to Burton Riglet Parks at the designated kids learning areas at Squaw and Alpine. The parks utilize terrain-based features, easy to use equipment and learning tools to introduce young kids to snowboarding. There will also be lessons for ages 3 and 4, complimenting the existing Grommets snowboard lessons for ages 5-7.
Expanded Carpool Parking at Squaw Valley: In 2016, Squaw Valley Alpine Meadows partnered with Protect Our Winters to offer free premium "POW Parking" to reward guests who elect to carpool to Squaw and Alpine, with a goal to reduce traffic and the resort's carbon footprint.
For the 2018-19 season, Squaw Valley will quadruple the size of its POW Parking area. POW Parking is available at no cost for vehicles with three or more people and is located at a prime location directly north of The Village at Squaw Valley. The POW Parking area will also be available for paid parking for non-carpool vehicles, with all spaces available on a first-come, first-served basis.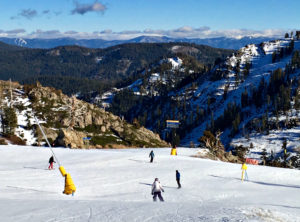 Disco Tubing: The SnoVentures Activity Zone will come alive at night with Disco Tubing for the whole family on holidays and other select times during the season. Families can spin, slide and speed down the snow tubing lanes to vibrant DJ tunes as the night is illuminated with colorful lights and lasers splashed on the mountainside.
Free Mountain Tours at Squaw Valley: Intermediate to advanced level skiing and snowboarding guests who are new to Squaw Valley can take advantage of a free two-hour mountain tour offered Friday, Saturday and Sunday mornings, as well as holidays. Experienced mountain hosts will guide an introductory tour of Squaw Valley's vast terrain, geared toward the skill level of the group.
Squaw Valley Aerial Tram Celebrates 50th Anniversary: Christmas Day 2018 will mark the 50th anniversary of the tram, originally known as The Cable Car. When it opened in 1968, a feat of modern engineering. Called the "The Monster" by the crew that installed it, the tram rises 2,000 vertical feet and is comprised of miles of cable, two 140 and 40-foot tall towers built into rugged terrain, and complex electrical and mechanical systems.