The three Vail Resorts in Lake Tahoe announced Thursday afternoon they would be closed Friday due to severe weather conditions.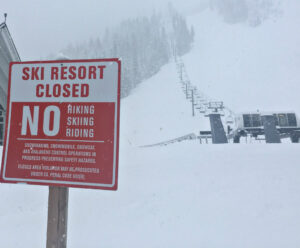 Another wild few days of winter weather has moved into the Lake Tahoe region as of Thursday evening (March 9). Unlike most severe storms in the 2022-23 ski season, this one will be a combination of snow, wind and rain.
The storm is serious enough that the three Vail resorts in Tahoe – Northstar, Heavenly, Kirkwood – are closing. Two other Tahoe ski resorts – Sierra-at-Tahoe, Mt. Rose – also announced prematurely they will be closed Friday.
It would be surprising if any Tahoe ski resort opened Friday. And several resorts are already hinting they might be closed Saturday as well, due to the storm continuing.
"Northstar will be closed tomorrow (March 10)," a Northstar post said on Twitter. "Rain and wet heavy snow with high winds will cause significant challengers for our resort. Safety remains our #1 priority through every storm and this weather poses a serious risk for our guests and employees alike."
Another Northstar post addressed travel. "Travel will be tough this weekend. Caltrans is expecting downed trees, ice buildup, and flooding to contribute to roadway backups. Please carefully consider your plans before traveling and ensure you're staying up to speed with current road conditions."
When is enough actually enough? Tahoe Ski World would guess every Tahoe ski resort and its frequent skiers and snowboarders would love to see an extended period of bluebird, sun-drenched days without any additional snow. Instead, another vicious weather system descended Thursday afternoon on the Tahoe area and may stick around through the middle of next week.
It doesn't happen often that a Tahoe ski resort will announce they are closing the following day, so this is a rare thing.
"We pride ourselves on mountain operations that persevere through the storms, while maintaining our high standards for safety," a message on the Sierra-at-Tahoe website said. "But with El Dorado County and the City of South Lake declaring a State of Emergency, the call was made to close Friday so we can help protect the things that matter most – you."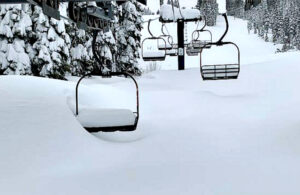 Kirkwood will be closed Friday, yet some of its employees may still be working, according to a message Thursday afternoon on the resort's website.
"Our team will be working everywhere we safely can just to maintain the mountain for future operations. At this time, we do not know if we will be able to open Saturday (March 11). And when we are able to operate again, expect delays to mountain operations."
WEATHER FORECAST: The next 72 hours will be dynamic with perhaps 5 feet of wet, heavy, snow expected to drop, accompanied by high winds that may get into triple digits. The National Weather Service is cautioning people to hunker down and stay at home if they are a Tahoe resident. Traveling to Tahoe is greatly discouraged.
The moisture should continue Friday through Sunday afternoon. Snow showers should start up again by Monday morning, then another storm moves in during the afternoon and lasts through Tuesday night. The showers could possibly last into Wednesday before clearing by Wednesday night.
NEW NAME FOR RESORT: The Resort at Squaw Creek has been a staple in the Olympic Valley for several decades. But like its neighboring ski resort – Palisades Tahoe (formerly Squaw Valley) – a name change was announced Thursday. The new name is Everline Resort & Spa.
"Our resort is dedicated to fostering spaces where everyone feels welcome. This name change was a top priority for the resort and community and a decision that has been made in collaboration with the Washoe Tribe, who have lived in this area for thousands of years," said Manfred Steuerwald, general manager of Everline Resort & Spa. "Our new name is rooted in the upmost respect for the Washoe Tribe's history and ancestors."