The Vail Resorts in Lake Tahoe – Heavenly, Northstar, Kirkwood – are expected to all be making snow this week and preparing for their late November opening.
Thanks to the recent cold temperatures and dry air in Lake Tahoe, Heavenly Mountain began making snow Sunday (Oct. 27) in preparation for a planned opening Nov. 22 for skiers and snowboarders, weather permitting. Heavenly has the largest snowmaking system on the West Coast.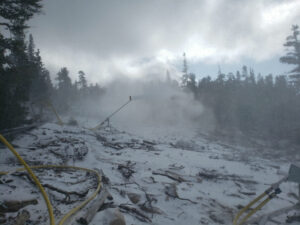 Both Northstar California and Kirkwood Mountain are expected to begin snowmaking Friday (Nov. 1). Northstar is also planning for a Nov. 22 opening, while Kirkwood Mountain has scheduled its opening one day later, Nov. 23.
Opening-day celebratory events are scheduled for all three resorts and will include activities like live DJs, complimentary hot cocoa, early-bird burritos, a chance to win gear, and other fun activities.
Using the latest computer technology, Vail Resorts in Tahoe snowmaking operators are monitoring changes in air temperature, water pressure and wind direction. Snowmaking crews at Heavenly and Northstar are alerted instantly of these changes and are able to quickly turn on or off machines from their cell phones or computers to optimally prepare resorts for upcoming opening days.
However, if snowfall begins to accumulate rapidly in November, all three resorts could move up their opening dates.
Heavenly Opening Day: The resort in South Lake Tahoe will kick off the early season Nov. 22 with a social-scene opening-day celebration that carries skiers and riders from the Heavenly Village Gondola with complimentary donuts, hot chocolate and coffee in the morning to afternoon après at Tamarack Lodge and Bar, located at 9,150 feet and famous for spiced-just-right Mountain Mary's.
A DJ and EMCEE will welcome guests at the base of the Heavenly Village Gondola, while a DJ CAT and live music from the "Send it Band" will play tunes up to the top of the mountain. Skiers and riders will have plenty of chances to win gear and swag, and then come together for the annual group opening day photo. Details at www.SkiHeavenly.com.
Northstar Opening Day: Family fun is the main focus for skiers and riders Nov. 22. It will begin in the afternoon with a live band in the Village at Northstar. Complimentary s'mores and hot chocolate will be available.
Kids and adults can enjoy après ski face painting set to the tunes of DJ Funksalot at the Village Ice Rink. Details at www.NorthstarCalifornia.com.
Kirkwood Opening Day: Early-risers on Nov. 23 can snag a free burrito to eat on the lift. Skiers and riders can score winter swag like buffs, fanny packs and maybe even a new board to shred for the 2019/2020 season.
Passholders will have the chance to sample food and beverage offerings throughout the day, and are invited to join the GoPro group opening day photo for a verifiable record of their early season start. More details a www.Kirkwood.com.