A season pass at the three Vail Resorts in Lake Tahoe is not only cheaper next season, it also has a provision that benefits friends.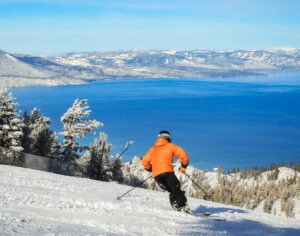 In addition to prices being cut by 20 percent for the 2021/22 Epic Pass, it also provides skiers and riders who purchase an eligible pass by Memorial Day an additional 10 Buddy Tickets.
Vail Resorts has three Lake Tahoe locations – Heavenly Mountain, Northstar California and Kirkwood Mountain.
May 31 is the last chance for guests to lock in their pass for a down payment of only $49, with the remaining pass balance processed mid-September. Skiers and riders can take advantage of this deal by visiting EpicPass.com.
"We are excited to offer skiers and riders game-changing prices on our 2021/22 pass products, whether they plan to ski or ride, one day or every day," said Kirsten Lynch, chief marketing officer of Vail Resorts. "
The price reduction applies to the entire North American pass lineup, including Epic Pass, Epic Local Pass and Epic Day Pass; Whistler Blackcomb Unlimited Pass, Whistler Blackcomb Day Pass and EDGE Cards; Summit Value Pass, Tahoe Local Pass, Tahoe Value Pass, Northeast Value Pass and Northeast Midweek Value Pass; Military Epic Pass and Adaptive Pass; and many more.
See all pass prices here.
Vail Resorts says the cost reset takes Epic Pass products back to prices last seen during the 2015/16 season when the Epic Pass offered access to only 11 U.S. resorts, compared to today's more than 80 resorts worldwide.
The company's resorts include Vail, Breckenridge, Park City and Whistler Blackcomb. Tthe price reduction gives guests the chance to visit Vail for $87 with a one-day pass and Keystone for $67. Both resorts are in Colorado.
In addition to reducing the cost of accessing the mountains, Epic Pass products provide pass holders with significant savings on the rest of their mountain experience.
Introduced last season, Epic Mountain Rewards offers pass holders 20 percent off on-mountain dining, lodging, group ski and ride school lessons, equipment rentals and more at Vail Resorts' 34 North American owned and operated resorts.