The venerable Toyota Highlander has historically received lots of attention. Traditionally, it's one of the most highly-rated midsize SUVs.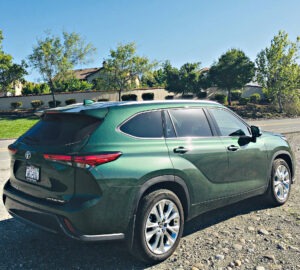 Looking for a comfortable, quiet ride? The Highlander gets the job done. Overall, it's a versatile SUV that can serve as the family hauler, thanks to its three rows of seating for seven or eight people, depending on the configuration.
The Highlander is also suitable for a smaller family that likes to have the third row folded down to create three times the original cargo space.
The family-friendly 2023 Toyota Highlander is offered in six trim levels (L, LE, XLE, XSE, Limited, Platinum.) and also includes a hybrid version that will not be discussed here.
The fourth-generation Highlander was smartly redesigned in 2020. The changes included exterior styling updates, improved performance, additional safety features, and some technology additions. Following no new alterations a year ago, the 2023 Highlander made a significant change with a new turbocharged four-cylinder engine and some interior niceties.
Toyota is hoping the additions this year make a significance upside in sales. After selling 212,000 SUVs six consecutive years, no one foresaw the Highlander taking a huge sales drop to 74,697 in 2022.
The Highlander has a standard 8-inch touchscreen and an optional 12.3-inch screen. Several of the infotainment system menus and instrument cluster can be a bit confusing, but overall it's not overwhelming to master. Other standard features include wireless connectivity for Apple CarPlay and Android Auto, Amazon Alexa smartphone integration, Wi-Fi hotspot, four USB-C charging ports, and one USB-A media port
Long drives in the Highlander won't be a problem for people in the first two rows, where comfort and ample leg and head room are at a premium. The second row also has comfy optional captain's chairs. A definite weakness is the third row, where seating is only suitable for small kids. Several midsize SUV rivals offer a larger third row.
The cargo area is on the small side (16 cubic feet) behind the third row. Yet flip that third row down and the storage expands to 48.4 cubic feet. Overall, the cabin includes large pockets and cupholders, plus two shelves built into the dash, including one designed for a mobile phone.
AT A GLANCE – 2023 TOYOTA HIGHLANDER
Performance: turbocharged 2.4-liter, four-cylinder, 265 horsepower
Mileage estimate: 22-29 mpg
Price estimate: $36,500 to $51,300

The 2023 Toyota Highlander has a standard 8-inch touchscreen and an optional 12.3-inch screen.

Warranty: 3 years/36,000 miles; drivetrain: 5 years/60,000 miles; roadside assistance: 2 years/unlimited; corrosion: 5 years/unlimited
The new turbo engine that replaced the previous V6 engine is a solid move, giving the Highlander improved performance, evidenced by it going 0-60 mph in 7.4 seconds. Fuel economy remains good at 22-29 mpg.
We found the turbo engine more than adequate on a trip into the high country. It's a 2.4-liter, four-cylinder that produces 265 horsepower and 309 pound-feet of torque. It comes with an eight-speed automatic transmission that drives the front wheels. All-wheel drive is an option.
The Highlander has always received praise for its driving capabilities. It handles the daily commute with ease and performs well when negotiating challenging, twisting roads. It drives smoothly, handling road imperfections effortlessly.
Standard driver safety features include frontal collision mitigation, automatic high beams, adaptive cruise control, lane keeping system, and traffic sign reader.
We are a bit perplexed why Highlander sales dropped off so dramatically a year ago. Yet it would be no surprise here if the 2023 Toyota Highlander has a bounce back sales year.
Weidel on Wheels is featured regularly on www.tahoeskiworld.com. Auto writer Jeffrey Weidel can be reached at [email protected]. Follow him on Twitter at @jeffweidel.