Do you think it's snowed a lot in Lake Tahoe this ski season? The answer is yes, verified by Tahoe ski resorts currently owning six of the top-10 snow totals in the United States for the 2022-23 season.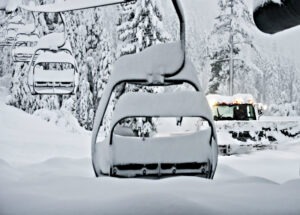 Mammoth Mountain currently has the most snow this season among U.S. ski resorts with a staggering total of 510 inches (at its summit) as of Jan. 26. Mammoth is located on California's Eastern Sierra range, approximately 100 miles south of the Nevada state line.
The next four highest U.S. snow totals come from Utah ski resorts, who are reporting between 422-455 inches. All snow totals are taken from a resort's summit.
CHECK OUT TOP-10 U.S. SNOW TOTALS BELOW
Sierra-at-Tahoe has the sixth highest total in the U.S. with 372 inches. The South Lake Tahoe ski resort is followed by Kirkwood (376), Palisades Tahoe (366), Sugar Bowl (355). Mt. Rose and Northstar shared the 10th slot with 336 inches.
The Tahoe ski resort snow totals at this point in the season are monumental for any ski season historically. Eight Tahoe ski resorts are reporting season snow totals of 300 inches or more.
"With 336 inches of snowfall to date, we've already surpassed last year's season snowfall total by 100 inches," the Northstar Twitter account stated this week. "Our 50th (anniversary) season is going to be one to remember for the ages."
SNOW TOTALS IN OTHER REGIONS: Snow has been coming down at other regions of the country, yet nothing like the amount received by California and Utah ski resorts. The largest total Tahoe Ski World could find was the 298 inches being reported by Jackson Hole in Wyoming.
The most snow any Colorado ski resort has received by Jan. 26 is Steamboat Springs, which is reporting 254 inches. Vail has received 211 inches thus far, followed by Aspen with 186. Other Colorado totals include Breckenridge (170), Purgatory (168), Telluride (158) and Arapahoe (128).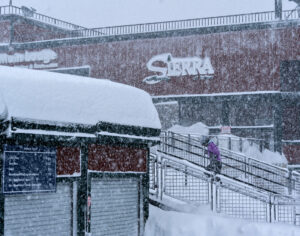 Mt. Baker in Washington is reporting 230 inches, far below its pace of the last three season when it averaged 679 inches. Other prominent US ski resort snow totals include Mt. Bachelor (201) in Oregon, New Mexico resort Taos (57), Stowe (96) in Vermont, and Idaho's Sun Valley (92).
TAHOE STORMS BEGAN IN DECEMBER: Several severe storms ravaged Tahoe ski resorts during the Christmas holidays. The snow was piling up so quickly and the winds were so vicious that only hardy skiers or snowboarders were braving the conditions for most of the holiday season.
The weather turned even worse once the New Year began. The Tahoe region received numerous atmospheric river storms that again dropped huge snow totals, created dangerous winds (sometimes gusting at 100 mph), dangerous road conditions, and several weeks of mostly unskiable conditions.
As of Jan. 19, the Central Sierra Snow Lab on Donner Pass had officially recorded 175 inches of snow – that's 249% of the 52-year average of 70 inches for the entire month of January. Halfway through the month Palisades Tahoe said it already had 88% of its annual average snowfall of 400 inches. The resort's 52-year average for January snowfall is 69.5 inches. Currently Palisades Tahoe has 150 inches this month.
A mild Jan. 18 storm that dropped only 4-9 inches of snow elicited this comment from Sugar Bowl ski resort last week. Sugar Bowl received 13 feet of new snow in December and 12 more feet by the first half of January.
"This storm feels like a lamb compared to the lions that have been roaring across Donner Summit lately," a Sugar Bowl blog stated. "Everyone's shoveling arms have gotten pretty tired, so we appreciate that there's only a manageable amount of snow to clear today."
A BREAK FROM THE SNOW: There's been no snow for about eight days at Tahoe ski resorts and the next dropping of white stuff isn't expected until Sunday (Jan. 29).
Sugar Bowl says during the first half of January it received more than 12 feet of snow. The recent break in the weather has been much appreciated.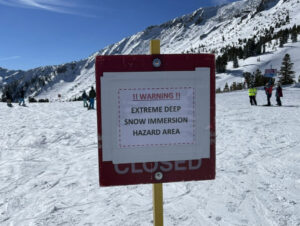 "It's nice to catch our breath. A few more bluebird days are on tap heading into the weekend, and then it looks like some snowy weather arrives on Saturday night," a Sugar Bowl blog stated.
TOP-10 U.S. SNOW TOTALS (as of Jan. 26, 2023)
Mammoth Mountain: 510 inches
Alta (Utah): 445 inches
Brighton (Utah): 441 inches
Snowbird (Utah): 422 inches
Solitude (Utah): 422 inches
Sierra-at-Tahoe: 377 inches
Kirkwood: 376 inches
Palisades Tahoe: 366 inches
Sugar Bowl: 355 inches
Northstar, Mt. Rose: 336 inches