Three snow storms are expected to hit Tahoe ski resorts in the next five days.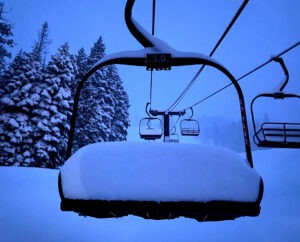 According to Bryan Allegretto, California Snow Forecaster for OpenSnow.com, these storms are not large ones individually, but could deliver up to 8-31 inches at the upper mountains at Tahoe ski resorts, more good news this month for skiers and snowboarders.
"I am not feeling much interest around town from people about the active pattern headed our way," Allegretto said. "The storms through Monday are small, but add them to a holiday weekend and we could have a lot of headaches. Also, some fresh snow on the mountains falling in inches, but it could pile up to feet on a few mountains over the next five days.
Each storm is followed by a day of agreeable weather, so the potential for three powder days is very high.
Heading into Thursday (Feb. 11), Squaw Valley Alpine Meadows had the most snow among Tahoe ski resorts with 196 inches for the 2020-21 season. Boreal Mountain is not far behind with 190 inches. Other notable totals include Sugar Bowl (184), Sierra-at-Tahoe (180), and Kirkwood (168).
The snow totals from the three storms will push several Tahoe ski resorts over the 200-inch mark for the 2020-21 season.
CHECK OUT TAHOE SNOW TOTALS BELOW
THURSDAY STORM: Allegretto believes the storm that started in the evening could bring between 5-17 inches. The storm gets heavy later in the evening and he is predicting Kirkwood Mountain and Sierra-at-Tahoe will receive the most snow (at their summit) among Tahoe resorts – 17 inches. Squaw Valley Alpine Meadows could receive up to 15 inches and Sugar Bowl is slated for 12.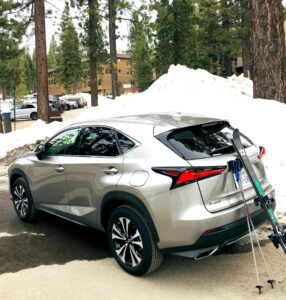 Then snow levels fall to around 5,000 to 5,500 feet by early Friday morning.
SATURDAY STORM: Following mostly sunny skies, light winds and high temperatures in the low 40s Friday, another storm is slated to move in early Saturday morning, likely before sunrise. Snow showers through the day may linger into early Saturday evening before the storm clears overnight. Ridgetop winds could be as high as 60-plus mph Saturday morning.
Allegretto has the storm dropping between 4-7 inches on Tahoe ski resorts.
MONDAY STORM: Following another nice day Sunday with sunny skies and high temperatures in the mid-30s, a third storm moves in Monday morning.
Allegretto says this storm could have similar timing to the Saturday system, but could linger a bit longer into Monday night before clearing out by Tuesday morning.
When the snow subsides, it may leave behind 1 inch to 1 foot of fresh snow. Tuesday through Thursday are likely agreeable weather days for skiers and riders.
TAHOE SNOW TOTALS (season totals – Feb. 11)
Alpine Meadows: 196 inches
Squaw Valley: 196 inches
Boreal: 190 inches
Soda Springs: 189 inches
Sugar Bowl: 184 inches
Sierra-at-Tahoe: 180 inches
Kirkwood: 168 inches
Homewood: 157 inches
Mt. Rose: 140 inches
Northstar: 139 inches
Heavenly: 125 inches
Tahoe Donner: 119 inches
Diamond Peak: 111 inches