Due to the coronavirus, visiting South Lake Tahoe this winter will obviously not be business as usual.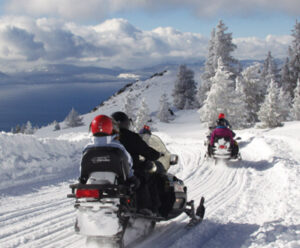 It's vitally important to remember – you may be on vacation but the coronavirus doesn't take a vacation.
There are plenty of precautions to consider, and of course two of the biggest are – wear a mask, frequently wash hands, and be aware of social distancing.
For winter enthusiasts eager to explore South Tahoe's vast outdoor winter wonderland, tourism officials recommend advance planning, mid-week stays, and securing reservations early for desired
SKI & SNOWPLAY: For the 2020/21 winter season, Vail Resorts (Heavenly, Northstar, Kirkwood) has a commitment to safety that takes on more importance this winter season than ever.
Vail Resorts CEO Rob Katz  announced the company's 2020/21 winter operating plan in a letter to guests, which outlines a comprehensive, out-front approach to operating its resorts, with the goal of ensuring a safe, enjoyable and successful ski and ride season.
Tentative opening dates are Nov. 20 for Heavenly and Dec. 4 for Kirkwood. Northstar's opening is TBA.
Key Changes
Guests will be required to wear face coverings to get on the mountain and in all parts of resort operations, including in lift lines and riding in lifts and gondolas.
To maintain physical distancing on chairlifts and gondolas, the resort will only be seating related parties (guests skiing or riding together) or: two singles on opposite sides of a four-person lift; two singles or two doubles on opposite sides of a six-person lift; or two singles on opposite sides of our larger gondola cabins.
Ski and ride school will be offered and on-mountain dining will be open, but with changes to help keep guests safe.
Mountain access will be managed to ensure guests have the space they need. As such, Vail Resorts announced a mountain access reservation system and limits on lift tickets to prioritize its pass holders. Full details on the pass holder reservation system can be found here.
Sierra-at-Tahoe  is promoting winter play through skiing and snowboarding with new regulations and operational changes to meet COVID-19 pandemic requirements for returning to the mountains. Consistent with health guidelines, face coverings will be required, as will physically distancing by maintaining six feet apart whenever possible.
To promote health and safety on chairlifts, guests are invited to self-group and load chairs with related parties (guests skiing or riding together).
With indoor capacities limited in compliance with federal, state, and local regulations, guests will be asked to embrace their car as a lodge to stay warm between laps and for snack breaks. Sierra's plans will not require a reservation system, as daily lift access will be made available on a first-come, first-served basis, provided parking is available.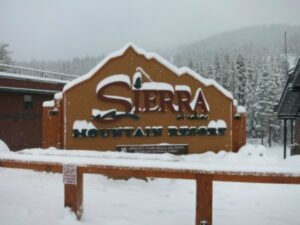 Regular cleaning and disinfecting of high-touch areas will take place, as well as daily staff wellness checks. For more information, please visit.
Camp Richardson: Will continue its operations similar to summer months to safely provide travelers with equipment rentals with cleaning/sanitation protocols, required mask wearing, and social distancing still in place. Snowshoes and cross-country skis will be available at Camp Richardson to rent for the day or longer durations, and groomed trails around the resort will open as conditions allow.
Sledding is an iconic winter pastime with additional places to zip down a hill. New this season, Sled Meyers, operating out of Tahoe Paradise Golf Course, is focused on family fun for visitors and locals while providing numerous skill level runs for various adrenalin needs.
Tahoe Snowmobile Tubing Hill across from MontBleu Resort Casino & Spa provides tube rentals as well as a small snowmobile course. Sierra at Tahoe's Blizzard Mountain; Adventure Mountain at the top of Echo Summit heading into the Tahoe Basin; and Hansen's Resort, on Ski Run Boulevard, approximately a mile from the Stateline/Heavenly Village corridor, each offer dedicated groomed areas for tubing and snow play as well as lodge amenities.
Zephyr Cove: Provides the quintessential lakefront "log cabin" winter getaway with activities for all ages, including sledding, cross country skiing, snowshoeing, snowmobiling via Lake Tahoe Adventures and boat cruises on the M.S. Dixie II paddle wheeler.
The M.S. Dixie II will be available all winter for sightseeing to iconic Emerald Bay for tours and dinner cruises. Seating for dining will be spaced with limited occupancy due to the pandemic. The boat may also be rented for winter weddings and private charters.
Zephyr Cove has implemented mask requirements for guests and employees; social distancing protocols; new technology to minimize contact including plexiglass shields in public areas; frequent disinfecting at high-touch areas; addition of hand sanitation stations throughout the facilities; and each snowmobile helmet is sanitized after each tour with the option to purchase a balaclavas ski mask.
Lake Tahoe Adventures: Snowmobile tours offer a natural distancing while exploring a variety of trails winding through mountain meadows and peaks at nearly 8,500 ft elevation with stunning lake views. Reservations are recommended; for current schedule, details and operations visit,
RENOVATED ACCOMMODATIONS
Harveys Lake Tahoe Hotel & Casino completed more than $41 million in capital expenditures starting in 2019 and through 2020 including renovating all 519 guest rooms in the famed resort's Lake Tower. The tower's balcony suites, with incredible views of the lake, were also refurbished last year. In addition, Gordon Ramsay HELL'S KITCHEN Lake Tahoe opened January 2020.
Coming this winter, Coachman Tahoe, located five-minutes from the lake as well as the Heavenly Village, has added 40 rooms across the street from its property adding to their existing 41 modern boutique hotel rooms. The Coachman is dog-friendly and provides work/play options including meeting space and a partnership with Cowork Tahoe, a local co-working office.
The Beach Retreat and Lodge has made renovations to their property to include ski lockers with boot dryers. New après food/cocktail menus at the Boathouse on the Pier provides a lake sunset setting for skiers following an adventurous day outdoors,
RnR Vacation Rentals in South Lake Tahoe enhanced their short-term renting model to incorporate discounted 30-day stays at their 65+ vacation rental homes to accommodate winter enthusiasts with options to work remotely for an extended period of time.
To help visitors plan a safe, healthy winter adventure, Tahoe South offers updated information on its website at "Know Before You Go" and Responsible Recreation with all current state and county health protocols TahoeSouth.com.