This wasn't an unusual occurrence a decade ago at Sierra-at-Tahoe. Opening the ski resort off Highway 50 near South Lake Tahoe in November was often the norm.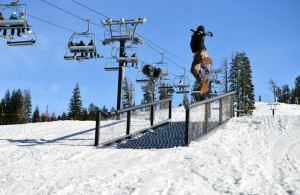 But that certainly hasn't been the case during three straight drought years. Dependent more on Mother Nature than many other Lake Tahoe ski resorts because it doesn't have sophisticated snowmaking equipment, Sierra-at-Tahoe happily begin running its lifts last Friday, its earliest start to the season since 2004.
Thanks to a pair of early snow storms and cold temperatures, Sierra was the eighth Lake Tahoe ski resort to open for skiing and snowboarding for the 2015-16 season. Sugar Bowl became the ninth Tahoe resort to open one day later. All nine resorts will be operating for the Thanksgiving holidays.
"The last time we opened this early was 11 years ago," said John Rice, Sierra-at-Tahoe general manager. "A November opening is giving us a great outlook for the rest of the season. In a similar year, we logged as much as 499 inches of snowfall."
Another November storm arrived Tuesday and lingered into Wednesday, which means even better holiday conditions. The big winners were Sugar Bowl (20 inches), Northstar California (16), Kirkwood Mountain (16) and Mt. Rose (14).
"We are expecting a great turnout for the Thanksgiving holiday – especially with the fresh snow," said Northstar spokesperson Cassandra Walker. "The storm will definitely help resorts open as much terrain as possible by the end of the week. Our guests are ecstatic we opened a week early and that they are already seeing top-to-bottom terrain and mid-winter conditions."
Both Heavenly Mountain and Northstar began running their lifts Nov. 14, their earliest start in three years. And it's the first time either resort opened six days ahead of schedule since at least 2009.
Heavenly Mountain received 8 inches of new snow Tuesday. Heading into this week Heavenly was operating its Gondola, Tamarack Express and Dipper Express, accessing upper California Trail and Orion's, which at over a mile long.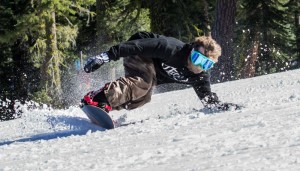 Available lifts at Sierra-at-Tahoe include Nob Hill, Easy Rider Express, Rock Garden, Slider and Magic Carpet, providing access to beginner and intermediate trails and the Broadway terrain park.
Located in Nevada, Mt. Rose was the first Lake Tahoe-area resort to open on Nov. 4 and was quickly followed by Boreal Mountain.
"We have great early-season conditions and we hope to see this go through Thanksgiving weekend and continue the rest of the season," Boreal spokesperson Shayder Edelmann said. "We're hoping for an awesome season. El Nino is shaping up to be great so far."
Neighboring resorts Squaw Valley and Alpine Meadows started their seasons on Nov. 12 and received 9 inches of snow Tuesday. For Alpine, the start to the season was nearly a month ahead of the originally scheduled opening date of Dec. 11.
Sugar Bowl is offering top-to-bottom skiing and snowboarding on 1,500 vertical feet of terrain. The resort was closed Monday through Wednesday, but reopened Thanksgiving Day for the four-day weekend.
Opening dates Lake Tahoe ski resorts:
Alpine Meadows Resort – Open
Boreal Mountain Resort – Open
Diamond Peak – December 3
Donner Ski Ranch – TBA
Granlibakken – Dec. 11
Heavenly Mountain – Open
Homewood – December 11
Kirkwood Mountain – Open
Mt. Rose Ski Tahoe – Open
Northstar California –  Open
Squaw Valley – Open
Sierra-at-Tahoe – Open
Soda Springs – TBA
Sugar Bowl – Open
Tahoe Donner – December 11
Jeffrey Weidel can be reached at skiweidel@gmail.com. Follow him on Twitter at @jeffweidel and visit his website at www.tahoeskiworld.com.