Snow will descend on Lake Tahoe on Wednesday evening (Dec. 16) and drop nearly a foot of fresh snow on Tahoe ski resorts.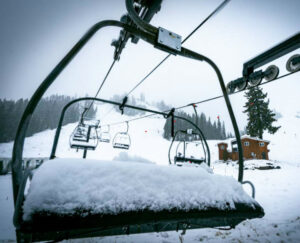 The snow is expected to start falling late Wednesday night and will continue into early Thursday afternoon, according to Bryan Allegretto, California Snow Forecaster for OpenSnow.
"We could see 3-11 inches of snow on the mountains, then a drier pattern for the weekend with highs temperatures into the 40s," writes Allegretto. "The next chance for snow is a weak system Tuesday, and then dry again through Christmas Day."
The latest snow will be the second in less than a week for Tahoe ski resorts. Sierra-at-Tahoe had the most snow over the two-day period with 17 inches that ended Monday morning.
There were 13 Tahoe ski resorts that received 10 inches or more snow from the weekend storms. Both Squaw Valley and Diamond Peak recorded 16 inches and Alpine Meadows had 15.
In the latest storm, Tahoe ski resort summits could get up to 11 inches of snow and 1-5 inches should drop at lake level. The Tahoe weather started with little wind and inversions early Wednesday morning. The skies were partly cloudy except for some morning fog in Truckee. That was followed by increasing ridgetop winds by late afternoon with gusts reaching 50-plus mph by sunset.
Snow levels could initially start Wednesday around 6,500 to 7,000 feet. But snow levels should fall quickly below lake level and near to below 5,000 feet by 4 a.m.
EXTENDED WEATHER FORECAST: The weekend looks nice with mostly sunny skies expected over most of the four-day period as high pressure builds in over California. Highs into the 40s at lake level and 30s for the upper elevations. Winds look to be light as well.
"With the weak splitting system moving through around Tuesday, the GFS & Canadian models have trended a bit farther south," Allegretto writes. "That means we could see a few snow showers if those model runs pan out. The European model keeps any precipitation to our north. We will continue to watch the trend for this system, but at best it looks to only bring a dusting of snow."