A snow storm that will likely begin Thursday afternoon could dump nearly 17 inches of snow on several Tahoe ski resorts before subsiding Friday.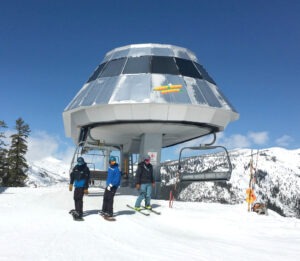 The National Weather Service (NWS) in Reno says a storm will enter the basin by midday Thursday (March 18) and linger through Friday. The NWS said the highest precipitation rates will be late Thursday afternoon and continue into the evening.
Sierra-at-Tahoe and Kirkwood Mountain are the two resorts where 17 inches is possible. Sierra received a foot of new snow Monday morning. Squaw Valley Alpine Meadows and Sugar Bowl could receive up to 15 inches from the latest storm.
"This is the type of storm that will bring significantly more snow to western Sierra slopes than areas east of the crest," the NWS said in a statement. "We'll see snow and snow pellet showers at all elevations Friday with the potential for even a rumble of thunder, but additional snow accumulation will be minimal."
CHECK OUT TAHOE SEASON SNOW TOTALS BELOW
The snow will be accompanied by some severe wind. Gusty southwest winds Thursday will turn to the northwest by Friday. Winds could be in the 30-40 mph range at lower elevations and 80-100 mph on ridgetops. Winds will be strong enough to create hazardous conditions on the lake, difficult travel for high profile vehicles and turbulence for aviation.
According to Bryan Allegretto, California Snow Forecaster for OpenSnow.com, the heaviest precipitation may stay aimed to the south of the Tahoe Basin on Friday, but we should continue to see showers for most areas.
"The showers will become lighter and more scattered Friday night and it will begin to clear out Saturday morning," wrote Allegretto. "Snow levels may drop to 4,000 feet Friday night, but that is after most of the precipitation has ended. Ridgetop winds continue to gust from the southwest up to 60-70-plus mph through Friday."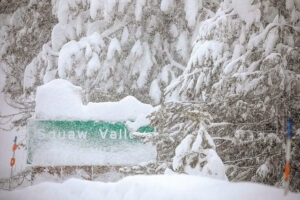 WEEKEND WEATHER: Allegretto says to expect chilly weather Saturday with the chance of a few scattered snow showers. But primarily it should be mostly sunny skies for much of the day and lighter winds with high temperatures in the 30s.
For Sunday, expect mostly sunny skies again with highs in the 40s at lake level and 30s for the upper mountains.
TAHOE SEASON SNOW TOTALS (March 18)
Squaw Valley: 279 inches
Alpine Meadows: 270 inches
Sugar Bowl: 264 inches
Sierra-at-Tahoe: 252 inches
Boreal: 249 inches
Soda Springs: 248 inches
Kirkwood: 241 inches
Homewood: 229 inches
Northstar: 192 inches
Mt. Rose: 187 inches
Tahoe Donner: 178 inches
Heavenly: 173 inches
Diamond Peak: 147 inches