For star-loving watchers, Tahoe Star Tours will host a series of evenings under the stars this winter that pair stargazing with a snowshoe tour.
Each Tahoe Snow Tours event provides an opportunity to enjoy an educational evening in the snow learning about the night sky, led by local astronomer, Tony Berendsen, an award-winning amateur astronomer residing in Reno, Nev.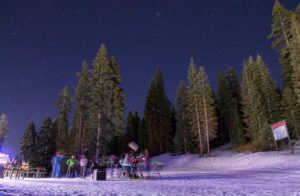 "The combination of snowshoeing and stargazing makes for a magical evening in the mountains," said Berendsen, producer of Tahoe Star Tours. "To make the experience even more memorable, the stargazing portion of the evening will return to the Fireside Terrace at The Ritz-Carlton, Lake Tahoe, allowing guests to step inside to warm up, or to enjoy a glass of wine."
Berendsen leads every tour, with each one featuring a lively science-based talk about the cosmos and poetry reading. Guests of all ages will enjoy an easy to moderate snowshoe walk with an unobstructed view of the cosmos, followed by the opportunity to view constellations through high-powered, professional telescopes manufactured by Celestron, the world's leading telescope manufacturer. The telescopes use leading edge computerized technology enabling sharp, accurate pointing and tracking, with optics for clear, clean images.
Berendsen is President of the Northern Nevada Science Coalition, a past President of the Astronomical Society of Nevada, and has been showing the skies above northern Nevada and California for the past 16 years, including five years at the Fleischmann Planetarium observatory in Reno. He writes astronomy articles for local publications, including the bimonthly "Star Guide" for the Reno Gazette-Journal, and specializes in astronomy outreach by conducting star gazing sessions of the Sierra sky.
Every Tahoe Star Tours event is as different as the starry skies above, and each one opens with a poem, a compelling and passionate star talk, followed by telescopic viewing exclusively featuring Celestron telescopes.
The series of four stargazing snowshoe tours will kick off December 21 at The Ritz-Carlton, Lake Tahoe, located mid-mountain at Northstar California ski resort. Additional events are scheduled for December 28, January 14, and February 11, weather and conditions permitting.
Tours are approximately 2-2½  hours in length, and meet at 5 p.m. at Northstar California Resort's Cross-Country Ski, Telemark & Snowshoe Center. A guided snowshoe walk, laser tour of the night sky and telescopic viewing when guests reach The Ritz-Carlton, Lake Tahoe is included.
Reservations are recommended, and can be made online at www.NorthstarCalifornia.com. Tickets are available for $63 for guests ages 13+, and $45 for kids ages 10-12. Snowshoe rentals are available for $21 per person. Prices exclude Eventbrite reservation fees. Guests are encouraged to wear warm clothing and sturdy shoes. For more information, visit www.TahoeStarTours.com.