Watching the stars has become a summer tradition at Northstar California ski resort in Lake Tahoe.
Tahoe Star Tours will be offered Thursday, Friday and Saturday evenings from June 15 through September 2, running from 8:15 p.m. to 10:30 p.m. Events on Thursday and Saturday evening will be hosted at the Dark Skies Cosmoarium at Northstar California.
On Friday evenings, Tahoe Star Tours will meet in Café Blue at The Ritz-Carlton, Lake Tahoe, with the telescopic viewing portion of the evening taking place on the open meadow in The Backyard of the property.
The luxury Ritz-Carlton, Lake Tahoe, is located mid-mountain at Northstar.
Encouraging curiosity and conversation around what may exist both within and beyond our galaxy, Tahoe Star Tours offers a compelling evening of stargazing and learning about the night sky. Led by Tony Berendsen, an award-winning amateur astronomer and past President of the Northern Nevada Science Coalition, and The Astronomical Society of Nevada, each Tahoe Star Tour is designed to inspire awe and offer an educational evening under the stars.
"This summer, the theme for my talks will be two-fold. I'll focus on extraterrestrial life with 'The Possibilities,' and also the solar eclipse, which will occur on August 21," said Berendsen, owner of Tahoe Star Tours. "With regard to the solar eclipse, specifically, I will offer tips on how to observe and take images of the eclipse."
Tahoe Star Tours continues its relationship with Celestron, an optics industry leader, and will make use of its newest telescope technology this summer. This will include Celestron's new WiFi capable CGX Equatorial Mount and Eclipsmart products, which were designed specifically for viewing of the solar eclipse on August 21, 2017.
Located near the entrance to Northstar on the lower level of the Castle Peak parking area, the Dark Skies Cosmoarium features wide, unobstructed horizons for viewing. Tahoe Star Tours participants will have access to comfortable seating, fire pits, outdoor heaters, blankets, as well as convenient, free on-site parking just a short walk from the viewing area, complimentary hot chocolate, coffee and s'mores. Complimentary shuttle service is also available from the Village at Northstar to the event venue.
At The Ritz-Carlton, Lake Tahoe, tours will begin inside at Café Blue, with stargazers enjoying the personalized service. The resort will offer coffee, hot chocolate and water, and access to blankets once the tour moves outside to the meadow for telescopic viewing.
Every tour features an informative Star Tour Astronomy presentation by Berendsen, laser tour of the starry sky, and telescopic observation with state-of-the-art Celestron telescopes with Ryan Berendsen.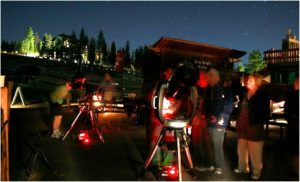 Tahoe Star Tours events are $40 for adults, and $20 for children ages 12 and under. Event details and ticket information for all tours can be found online at www.NorthstarCalifornia.com.
In addition, a special Concert Star Tour event featuring Accent, comprised of Reno Philharmonic musicians, will be offered on Friday, August 11 (timed to correspond with the Perseid Meteor Shower) at The Ritz-Carlton, Lake Tahoe. This event will feature stargazing, and a live performance that includes the world premiere of a quintet composed by Stephanie Ann Boyd of Berendsen's poem "Oh How We Wonder." The cost to participate is $125 per person, and is limited to 40 people.
Advance reservations for all Tahoe Star Tours events are recommended, and all tours are offered weather and conditions permitting. For more information and the complete schedule of events, visit www.TahoeStarTours.com.