The Beijing Olympics just started, but the end may have already come for Tahoe skier Nina O'Brien.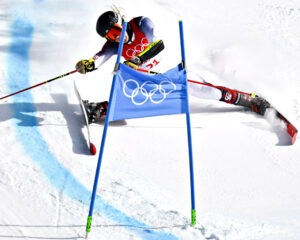 The Palisades Tahoe Ski Team product crashed near the finish line yesterday morning (Monday, Beijing time) in her second Olympic Giant Slalom run, sending gasps throughout the crowd that included many fellow Olympic skiers.
The 24-year-old O'Brien is suspected of suffering a serious leg injury after her right leg bent awkwardly during the crash and she had to be stretchered off the Olympic course.
Doctors and emergency responders tended to her on the icy snow for almost 10 minutes, before dragging her away from the finish area on a stretcher.
The U.S. ski and snowboard team's Twitter account said she was undergoing further evaluation today. O'Brien is also scheduled to be in the Women's Slalom event.
Starting the second of two runs in sixth place, O'Brien was going fast on the final turn when she slipped and appeared to hurt her leg, very close to the finish line.
There were other falls throughout the second round of Giant Slalom runs, but O'Brien's was the scariest. She lost balance after clipping one of the final two gates.
Her skis split, her right knee appeared to bend underneath her at an awkward angle, and she tumbled toward and over the finish line as her skis and poles went flying.
Footage of the crash aftermath confirmed O'Brien clutching her left leg.
O'Brien lay on the artificial snow, but was "alert and responsive," according to a U.S. ski team spokeswoman. She was "calm, worried about delaying the race, and wanted to know how fast she was skiing."
Nina O'Brien File
Sport: Alpine skiing
Event: Slalom, Giant Slalom
Born: Nov. 29, 1997
Birthplace\Hometown: San Francisco, Calif.
College: Dartmouth College
Team/Club: Palisades Tahoe Ski Team /Burke Mountain Academy

Nina O'Brien was one of multiple skiers who fell during the first Alpine race at these Winter Games. She wasn't the only casualty in the Giant Slalom competition.
HOW SAFE IS THE ARTIFICAL SNOW? Video showed fellow skiers in disbelief following O'Brien's crash.
O'Brien was one of multiple skiers who fell during the first Alpine race at these Winter Games. She wasn't the only casualty in the Giant Slalom competition.
There have already been multiple crashes in the Beijing Olympics, raising questions over the host's decision to use nearly 100-percent artificial snow for the 2022 Winter Games.
Apart from its environmental impact, the decision has been criticized by some athletes, including retired British freestyle skier Laura Donaldson, who called it "dangerous."
It comes at a time when the future of the Winter Olympics is under threat because of climate change, according to a new university report. The warning came as Beijing prepared for the first Winter Olympics to use nearly 100-percent artificial snow.
CONDOLENCES FROM SHIFFRIN: USA teammate Mikaela Shiffrin, who was heavily favored to win the Giant Slalom and had a fall on her run that ruined her chances, commented about O'Brien on her Twitter account.
"We are so heartbroken for Nina… she showed so much heart and fire in her skiing today, and it all got shredded to pieces on the final turn. This sport … this sport is SO damn hard. It's brutal, and it hurts – far more often than it ever feels good."
TAHOE PAIR UNIMPRESSIVE IN DOWNHILL: Bryce Bennet finished 19th and USA teammate Travis Ganong took 20th in the Men's Downhill on Monday in Beijing.
Each downhill skier got one shot down the treacherous course that had its share of wipeouts.
Bennet had a promising run going when it all went bad when he couldn't control his skies and veered off the course. The effort to get back on the right path greatly impacted his score.
The 29-year-old Bennett, who was born in Truckee and raised in Tahoe City, trained with the Palisades Tahoe ski team.
Ganong, 33, calls Alpine Meadows home and represents Palisades Tahoe.