There are a number of Tahoe ski resorts celebrating New Year's Eve.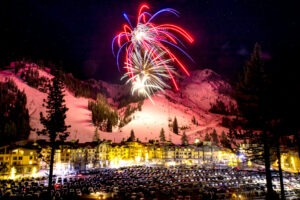 Check out the local festivities below from a number of Tahoe ski resorts.
SQUAW VALLEY: The famed North Lake Tahoe ski resort will once again be attempting to create the World's Largest LED Torchlight Parade. A year ago, nearly 3,000 people participated in the event, skiing down the Exhibition run and lighting up the night sky with blue LED lights.
Last year, Squaw had a record-number of 2,913 skiers and riders participate in the Torchlight Parade down Exhibition, so it was an "unofficial" world record. But since there was no Guinness representative on-site, and the torchlight parade was logistically a little different than a traditional flare run, Squaw officials say they can't claim an official world record.
According to Guinness World Records, the largest flare run ever consisted of 2,854 skiers and snowboarders that were carrying flares, following a course between Riggisalp and Schwarzsee in Switzerland.
Squaw Valley has scheduled another Torchlight Parade this year, hoping for a record turnout again. The event kicks off at 5 p.m., and when all of the skiers finish their lap on Exhibition, Squaw Valley will cap off New Year's Eve with fireworks on the KT Deck at 7 p.m.
Following the fireworks is a family-friendly New York New Year's Eve party in the Olympic House. There will be a live DJ and the festivities wrap up with the East Coast ball drop at 9 p.m. (instead of midnight, West Coast time).
However, people looking to keep the party going can check out the Rock-N-OVL concert. Local band – The Nomads (featuring Barry Thys) – will perform in the Olympic Village Lodge, entertaining people just like they did 20 years ago when the band put on a legendary performance for Squaw's New Year's Eve party that brought in the year 2000.
To participate in the free Torchlight event, all skiers and riders must be 5-older and sign up for a time slot in advance to participate in the Parade. Time slots are in 15-minute intervals, starting at 5 p.m. and lasting through 6 p.m. Participants will only be allowed to ride the Exhibition chairlift during their time slot. Skiers and riders must show their wristband to ride the Exhibition lift.
HEAVENLY: Billed as Heavenly Holidays, Dec. 31 will feature fireworks, a ball drop countdown and lots of live music, from 2-9:30 p.m. at the Heavenly Village. The musical lineup includes DJ CashMaster, Austin Mo Experience, Garage Boys (Las Vegas' Top Party Band, CJ Solar #1 Hit Writer, Florida Georgia Line, Mark McKay, and others. Country Superstar Jerrod Niemann is the headliner.
The countdown for the (New York Times Square) ball drop at the Gondola begins at 8:50 p.m. and it comes down at 9 p.m. The fireworks and streamer blast follow the ball drop. Niemann will begin playing at 8:40 p.m. on the top of the parking garage. Admission is free.
For complete schedule, go here.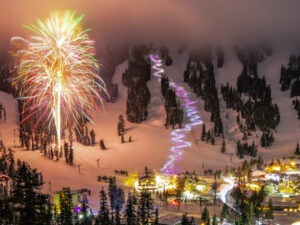 KIRKWOOD: The celebrating includes a Torchlight parade, bonfire and fireworks at the resort.
Registration begins at 9 a.m. the morning of Dec. 31. There will be a DJ in the Kirkwood Village from 5:30-7:30 p.m. At 6:15 p.m., Kirkwood will begin loading guests on its Chair 5, prepping for the parade. The chair will be a tremendous seat for viewing the Torchlight parade that comes down the mountain, beginning at 6:30 p.m.
A fireworks show starts at 7 p.m. and there will be live music at the Cornice Grill from 8 p.m. until midnight.
For complete schedule, go here.
NORTHSTAR: The resort will have music and entertainment all afternoon and into the evening hours at the Northstar Village. The headliner is Hip Service at 7 p.m. The fireworks begin at 9 p.m.
Northstar is encouraging guests to use the complimentary Truckee Shuttle to get to and from the event.
For complete schedule, go here.
MT. ROSE: The Nevada ski resort located near North Lake Tahoe has a Snow Cat parade, Kids Torchlight parade and Fireworks scheduled for early evening.
A DJ begins the festivities at 3 p.m. The Snow Cat Parade takes place at 5 p.m., followed by the Kids Torchlight at 5:25 p.m. and the Fireworks at 5:50 p.m.
The Wizard chair and the Magic Dual Conveyor will remain open until 4:30 p.m. There will also be a raffle for season passholders (prizes include skis, snowboard).
Mt. Rose was the first Tahoe ski resort to open this season and currently has 100-percent of its mountain available for skiing and riding.
"Holiday Crowds have been enjoying spectacular conditions at Mt. Rose – the snow couldn't be better," Mt Rose spokesperson Mike Pierce said. "Crowds are steady, but not overwhelming, making for a very enjoyable skiing experience."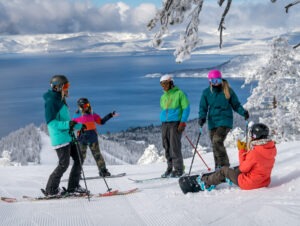 DIAMOND PEAK: A family-friendly ski resort located in Incline Village, Diamond Peak will have some fun things for kids on Dec. 31. The resort will celebrate with "theme days" in its Child Ski Center where staff will dress up in costumes (Safari theme).
The best news for Diamond Peak has been recently having 100-percent of its terrain open for skiing and snowboarding, including the Village Terrain Park.
"That's one of the earliest dates we've ever been able to open up all our terrain," said Diamond Peak spokesperson Paul Raymore.
Diamond Peak's terrain park team has also added what it's calling the Jump Start Park, located at the bottom of Popular run. It's a park with tiny features, geared toward those who have never tried terrain park features before. Features are low to the ground with gentle landings and there's a mellow vibe focused on fun.
After mastering these features, riders can step up to the Village South on Wiggle and then work their way up to the other Village Terrain Park zones.
"Diamond Peak is traditionally a great option for skiers and riders looking to avoid the crowds at some of the bigger resorts in the region, and this year is no exception," Raymore said. "We've had virtually no lift lines at all during the first half of the Christmas holidays, and while things picked up, there are still minimal wait times at our most popular lifts."