Following a week of massive snow totals, Tahoe ski resorts were scrambling Wednesday morning to resume operations after most of them were closed Tuesday due to more blizzard conditions.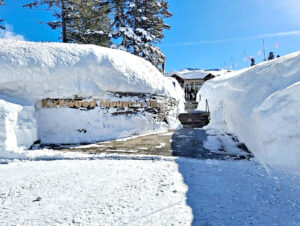 It's been quite a week for snow and quite a season as well for snow totals. The snow piling up throughout the Lake Tahoe region elicited this "Captain Obvious" comment from Homewood Mountain.
"As I'm sure everyone is aware, there is a lot of snow out there."
How epic has this ski season been for snow totals? On Wednesday (March 1), the University of California, Berkeley Central Sierra Snow Laboratory near Donner Pass reported that nearly 41.7 feet – more than 500 inches – has fallen since October. That's more than any snow year since 1970 and second only to the record of 66.7 feet in 1952, according to the Associated Press.
CHECK OUT TAHOE SNOW REPORT BELOW
After being shut down Tuesday due to the severe weather conditions and constant snowfall, Sierra-at-Tahoe was typical of most Tahoe ski resorts on Wednesday morning.
"(Trying to open today) will be a Herculean task after a storm of this magnitude," a note on the Sierra-at-Tahoe website stated. "While normally we encourage early bird getting the worm – today is a day to sleep in, set your bindings back, catch up on re-reruns of The Office, or fuel up at your favorite brunch spot to allow the necessary time for our crews to access and assess the mountain."
Sierra-at-Tahoe was hoping to reopen the resort off Highway 50 on Wednesday by mid-to-late afternoon.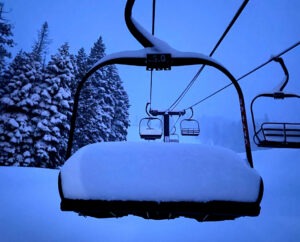 All of Tahoe's 13 ski resorts were scrambling overnight and early this morning to get their resort dug out for reopening. On Tuesday, 11 of Tahoe's 13 ski resorts were closed due to the blizzard conditions. Only Heavenly and Diamond Peak were running lifts Tuesday.
Most Tahoe ski resorts were warning anxious skiers and riders that Wednesday's opening would be delayed due to the enormous amount of snow. One resort – Soda Springs – will be closed Wednesday and anticipates running its lifts again Thursday morning.
MASSIVE SNOW TOTALS: Tuesday was another staggering day of snowfall, Every Tahoe ski resort got at least 2 feet of new snow and many received much more.
A modest Truckee ski resort, Tahoe Donner received the most snow of any Tahoe ski resort, reporting 44 inches Wednesday morning. Palisades Tahoe got a second straight day of 38 inches and now has the most snow this season in the Tahoe region with a whopping 539 inches. Homewood got 3 feet of snow for a second straight day.
Northstar California, which received 61 inches over the past 48 hours and 119 inches over the past week. Sierra-at-Tahoe was reporting 112 inches the past seven days.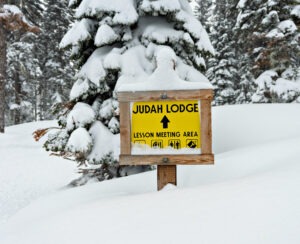 At Sugar Bowl, the resort is reporting it took 91 days this season to hit the 400-inch mark of snowfall and only 6 days to get from 400 to 497 inches. Sugar Bowl received a whopping 135 inches of snow in February, with 107 inches of it falling in the past seven days.
"There's no other way to spin it, Sugar Bowl is buried," said Sugar Bowl spokesperson Jon Slaughter. "When our midwinter base gets this DEEP, we can count on a terrific spring season ahead."
ROAD ISSUES: Despite the snow subsiding, this morning Interstate 80 remained closed from Applegate (near Colfax) to the Nevada state line due to zero visibility.
On Highway 50, which leads into South Lake Tahoe, chain-controls remained in effect for a third straight day, starting at Placerville and continuing to Meyers. On Tuesday, Caltrans was advising people not to travel in and out of South Lake Tahoe unless necessary. All local Tahoe roads were being impacted Wednesday by the huge snow totals as well.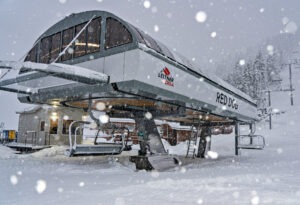 WEEKEND WEATHER FORECAST: Modest snowfall was expected to periodically drop Wednesday. High temperatures will not remain in the 20s and winds will still be prevalent, but much less impactful than they have been the past week.
After a much-needed break from snowy weather Thursday and Friday, snow chances return this weekend. Gusty winds should be back Saturday morning across Sierra ridges with wind gusts peaking at 100-plus mph in the afternoon and evening. Following the weekend, winter weather and additional snow impacts look to continue into next week with more systems in the forecast.
TAHOE SNOW REPORT (March 1)
Tahoe Donner: 44 inches
Palisades Tahoe: 38 inches
Homewood: 36 inches
Boreal: 35 inches
Soda Springs: 35 inches
Northstar: 34 inches
Diamond Peak: 30 inches
Kirkwood: 24 inches
Sugar Bowl: 27 inches
Sierra-at-Tahoe: 24 inches
Heavenly: 24 inches
Mt. Rose: 24 inches
Granlibakken: NA