A snow storm left a significant amount of snow Wednesday morning on Tahoe ski resorts.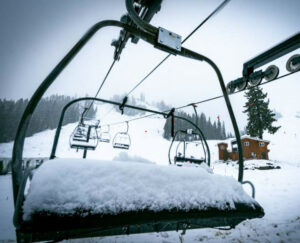 Nine Tahoe ski resorts received 10 or more inches of snow from the storm, which arrived Tuesday afternoon (Nov. 17) and kept coming down throughout the evening. More snow will fall today, starting in the afternoon and continuing into the night.
Mt. Rose and Squaw Valley Alpine Meadows received the most snow among Tahoe ski resorts – both were reporting up to 16 inches of new snow on their upper mountain. Boreal Mountain and Soda Springs received 15 inches.
Sugar Bowl was reporting 12 inches of fresh snow, while Diamond Peak, Sierra-at-Tahoe and Homewood all had 10 inches.
SEE TAHOE SNOW REPORT BELOW
"The storm came in wet and dropped heavy, saturated snow that is perfect for this time of year, because it creates a strong base layer that thoroughly coats the ground," a Squaw-Alpine spokesperson said. "We plan to open Nov. 25, weather and conditions permitting."
Although neither ski resort was reporting totals Wednesday on their websites, both Northstar California and Heavenly Mountain are scheduled to open Friday (Nov. 20), becoming the the first Tahoe ski resorts to start running lifts for the 2020-21 season.
Although the snow was coming down steadily, conditions were hardly conducive for skiing or snowboarding. The National Weather Service (NWS) reported South Lake Tahoe had wind gusts up to 60 mph and Meyers (Kirkwood ski resort) had gusts up to 63 mph.
A huge pine tree fell near Heavenly's California Lodge that crushed a bear box, a mail box and tore down some power lines. Fortunately, the tree didn't fall on three houses that were close by.
WEDNESDAY FORECAST: At Lake Tahoe, up to a half-foot of heavy, wet snow is expected at lake level with winds gusting to 60 mph. Between a foot and 18 inches of snow is possible at elevations above 7,000 feet.
Wednesday travel will continue to be slow and difficult, especially over mountain passes. Chain controls are in effect for all vehicles except for all-wheel drive with snow tires on Highway 50 from Twin Bridges to Meyers.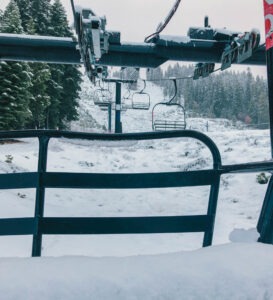 On Interstate 80, eastbound traffic was closed to all single axle trucks with double trailers at Applegate. Chains are required for all vehicles except all-wheel drive from the Donner Lake interchange in Nevada County to 4.7 miles west at Kingvale in Placer.
"Avoid travel over passes if possible," the NWS warned. "If you must travel, prepare for long delays and carry an emergency kit with extra food, water and clothing. If you stay home, have a backup plan in case of power outages."
TAHOE SNOW REPORT
Mt. Rose: 16 inches
Squaw Valley: 16 inches
Alpine Meadows: 16 inches
Boreal: 15 inches
Soda Springs: 15 inches
Sugar Bowl: 12 inches
Diamond Peak: 10 inches
Homewood: 10 inches
Sierra-at-Tahoe: 10 inches
Heavenly: NA
Northstar: NA
Kirkwood: NA
Tahoe Donner: NA