A year ago, snowfall was regular and came in huge amounts. The snow totals in February at Tahoe ski resorts were so enormous that the month became known as FebruBURIED!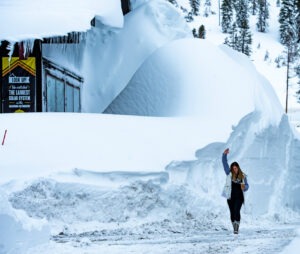 Squaw Valley received a resort record 313 inches of snow in February 2019, putting its season-total at 580 inches, the second most snow among North American ski resorts.
"We have smashed our previous February record by over 100 inches, and we have also blown away our previous month snowfall record from January 2017 by 18 inches," said Squaw Valley spokesperson Alex Spychalsky last March.
The good news was skiers and riders had lots of glorious powder days where the snow was knee deep or even more.
The bad that came along with the extreme weather was freeways and local Tahoe roads were often tough to navigate. Severe winds were also an issue, causing a fair amount of lift closures.
Yet overall it set up some fantastic skiing and riding at Tahoe ski resorts where the snow slowed down, but didn't stop in March and April.
Squaw wasn't the only Tahoe ski resort reporting abnormally high snow totals. By the first few days of March, the 500-inch club in Tahoe included five other Tahoe ski resorts – Homewood Mountain (563), Sugar Bowl (561), Northstar California (549), Boreal Mountain (539), and Kirkwood Mountain (526).
"February has literally been one for the record books. We're on track to exceed our annual average snowfall (for the season)," Sugar Bowl spokesman Jon Slaughter said last February. "This is the type of season that dreams are made of."
All 14 Tahoe ski resorts were giddy over the snow totals. And by early March, all of them announced they would be extending the ski season. Squaw Valley led the way there too, staying open until July 7.
The Vail Resorts in Tahoe – Heavenly, Northstar, Kirkwood – all had staggering snow totals in February. Northstar received 286 inches of snow, Kirkwood recorded 271 inches and Heavenly's monthly total was 269 inches.
"This is a truly an unforgettable season," said Mike Goar, last year's vice president and chief operating officer of Vail Resorts in Tahoe.
SIERRA SNOWPACK AT 47 percent: Last year's fond memories are quite the contrast to the 2019-20 ski season. To date, there has been no snowfall recorded this February, a circumstance that has never happened since records have been kept since 1919.
On Thursday (Feb. 27), state officials at Phillips Station near Sierra-at-Tahoe recorded a snow-water equivalent of 11.5 inches, only 47-percent of average for the end of February, according to Sean de Guzman, chief of snow surveys for the California Department of Water Resources.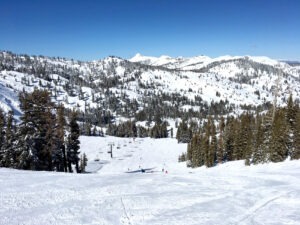 The snow report a year ago was quite different. The Sierra snowpack was measured at 153-percent of average heading into March.
The contrast in snow totals from last season to this one is depressing. Squaw Valley is reporting 207 inches of snow for 2019-20, the most among Tahoe ski resorts. No other resort has broken the 200-inch mark.
(SEE BELOW FOR CURRENT TAHOE SNOW TOTALS)
SNOW IN CURRENT FORECAST: There is some indication that March may bring a much better outlook for snowfall – Possible March snow storm coming to Tahoe ski resorts.
Bryan Allegretto, OpenSnow California forecaster, reports a West Coast system could bring significant snow to Tahoe ski resorts in March.
The first Tahoe snowfall since mid-January may arrive Sunday, March 1. Allegretto says snow levels should start around lake level and drop quickly as plenty of cold air moves in Saturday night, with snow levels down below 4,000 feet by Sunday morning. Allegretto forecasts 1-3 inches of snow at lake level, and 3-6 inches on the mountains by Sunday afternoon.
"A one-and-done storm for Sunday could bring the most snowfall we've seen since January," Allegretto writes. "That's followed by a warming about 10 degrees the second half of the week as high-pressure shifts over the West. And maybe a prolonged active pattern starting next weekend (March 7-8)."
Allegretto is predicting in the second week of March there could be a much-needed series of storms that add to the Tahoe snow totals.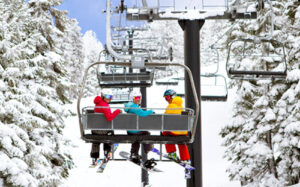 "(The system) doesn't guarantee big storms, but it provides a trough for storms to drop into or spin up in and move into California," notes Allegretto. "So, we continue to wait about 10 more days to see if we could see a favorable pattern setup for storm development."
SNOW REPORT (season totals, Feb. 28)
Squaw Valley: 207 inches
Sierra-at-Tahoe: 204 inches
Alpine Meadows: 198 inches
Northstar California: 197 inches
Boreal Mountain: 196 inches
Sugar Bowl: 194 inches
Kirkwood Mountain: 192 inches
Soda Springs: 192 inches
Heavenly Mountain: 183 inches
Mt. Rose: 178 inches
Homewood Mountain: 166 inches
Diamond Peak: 113 inches
Tahoe Donner: 111