Two Tahoe ski resorts have pushed back their closing dates by one week, extending the season for many skiers and snowboarders.
Both Diamond Peak and Sugar Bowl announced their new closing date was now Sunday, April 18. The popular Tahoe ski resorts initially had April 11 as their closing date.
SEE TAHOE SKI RESORT CLOSING DATES BELOW
Diamond Peak enjoyed solid crowds Monday through Friday this week and is anticipating a busy weekend of skiers and riders.
"Diamond Peak still has great ski conditions to offer our pass holders and the local community, so we're excited to be able to extend our ski season for an additional week," said Diamond Peak spokesperson Paul Raymore. "We sincerely hope that everyone will be able to plan at least one more spring ski/ride day on the slopes and enjoy the fun spring conditions that the Lake Tahoe region is famous for.
Season to date, Sugar Bowl has received 286 inches of snow and base depths of 68 to 118 inches. For the final week of the season, Sugar Bowl has reduced lift-ticket prices to $49.
"The decision to extend the season by an additional week is our way of showing our deep appreciation and offering our passholders and daily visitors our thanks for their continued support," Sugar Bowl spokesperson Jon Slaughter said. "We could not have been successful this season if it were not for the hard work of our staff plus the understanding and respect shown by our guests."
This coming week (April 5-11) will definitely feature spring skiing conditions with temperatures expected to be in the 50s and mostly sun-drenched days.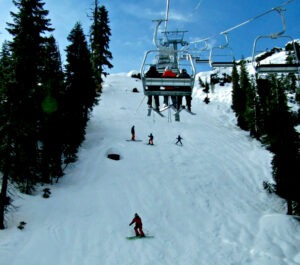 "Plan to arrive early for nicely-groomed corduroy in the morning, then stay as the temperatures warm up and the snowpack transforms into the softer 'corn' snow that is so much fun to make turns in," Raymore advises. "Ski or ride as long as you can, then enjoy the outdoor sun decks to wrap up the perfect spring day."
Four Tahoe ski resorts will be closing operations Sunday, April 11. Seven more resorts will run their lifts for an additional week, with tentative closings on Sunday, April 18.
Weather and conditions permitting, Squaw Valley Alpine Meadows will be open approximately seven weeks longer than any other Tahoe ski resort, establishing a closing date of Memorial Day – Monday, May 31.
"Squaw Valley Alpine Meadows is known for its amazing spring skiing and riding. We are so happy we can continue to offer up outdoor recreation to visitors and locals," said Squaw-Alpine spokesperson Christine Horvath. "While it might look a bit different with fewer events and music this spring season, the skiing and riding will be in our usual tradition of fun at the Spring Skiing Capital."
Due to COVID-19 considerations, the ski season in Lake Tahoe got off to a later start than usual. Mt. Rose, which is normally the first Tahoe ski resort to open, often times in late October, pushed back its opening day until Nov. 20. Northstar California and Heavenly also opened Nov. 20 and six other Tahoe ski resorts were running lifts by Thanksgiving weekend.
COVID-19 was not the lone issue facing Tahoe ski resorts this season. There was a general lack of snow, evidenced by no Tahoe resort has reached the 300-inch snow mark for the season. Squaw is the closest with 297 inches as of March 26. In many normal snow years, the totals of at least several Tahoe ski resorts exceeds 500 inches.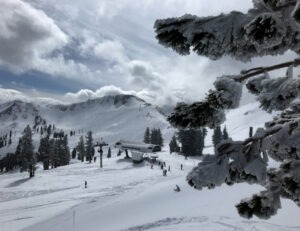 Despite the low snow totals, most Tahoe ski resorts have enjoyed solid snow conditions this season. While overall numbers of skier and snowboarder visits are down at all resorts nationwide, considering the possibility that resorts could have been shut down sometime during the season due to COVID-19 implications, the 2020-21 should be considered a huge success.
To the knowledge of Tahoe Ski World, no U.S. ski resort had to shut down this season due to the pandemic.
Despite the COVID restrictions and many people's natural inclination to stay away from any place that draws a crowd, Sugar Bowl has seen an upsurge in skier visits following the Christmas holidays.
"Yes, we have seen strong visitation during the second half of the season. Compliance with our policies has been consistent all season and mirrored what we expected," Slaughter said. "People want to get out and enjoy the mountain.  Our policies are simple to follow and guests are more than willing so they can ski and snowboard our uncrowded slopes."
TAHOE SKI RESORT CLOSING DATES
Tahoe Donner: April 11
Sierra-at-Tahoe: April 11
Kirkwood: April 11
Homewood: April 11
Sugar Bowl: April 18
Diamond Peak: April 18
Soda Springs: April 18
Northstar: April 18
Heavenly: April 18
Boreal: April 18
Mt. Rose: April 18
Granlibakken: TBA
Squaw Valley Alpine Meadows: May 31