Lake Tahoe ski resorts received their first snow earlier this week, signaling the 2021-22 season isn't far away.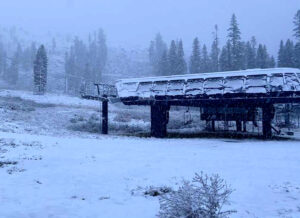 Flakes began falling in the Lake Tahoe region sometime after midnight (Oct. 8), and by Friday morning snow was visible at higher elevations in the Tahoe area and also in Yosemite National Park's high country.
The snow was the earliest in the Tahoe region since 2017, when it arrived on Oct. 3. Over the last 50 years, the typical first snowfall comes around Oct. 20.
"It's October 8 and nearly 3 feet of snow is on the ground at Sugar Bowl – our first measurable snow of the season," a Sugar Bowl press release stated." It's a beautiful sight and gives us hope and optimism for a plentiful snow season ahead."

Sugar Bowl has targeted an opening day Friday, Nov. 26 (the day after Thanksgiving), but the resort says it could be earlier if conditions allow.

The fallen snow was a welcome sight for other reasons then skiing and snowboarding. Northern California is experiencing its driest two years in a row since 1976-77. Many reservoirs are at record-low levels.
PALISADES TAHOE: Both ski resorts – formerly Squaw and Alpine Meadows – received a dusting in the early-morning hours Friday.

"We actually had snow falling, top to bottom. It was snowing even in the parking lot," said Christine Horvath, a spokeswoman for Palisades Tahoe.

Palisades Tahoe has a planned opening day of Wednesday, Nov. 24, weather permitting.

The Palisades Tahoe name change brings both mountains of the former Squaw Valley Alpine Meadows together under one name.