Finally, a break in the weather in the Lake Tahoe region.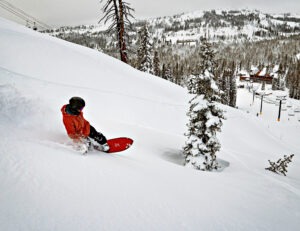 Snow totals are currently off the hook at Tahoe ski resorts, so Wednesday (Dec. 29) was a reward for patience – a powder day that skiers and snowboarders could actually enjoy.
Light snow and mostly moderate winds were the only downside Wednesday when every Tahoe ski resort was open, many of them with lots of available terrain for the first time in a week.
Although roads were packed Wednesday, many people were still rejoicing that the two main arteries to Tahoe – Interstate 80 and Highway 50 – were finally open in both directions.
Tahoe ski resorts have been getting hammered with snow the past week, creating towering walls of white powder. The December snow totals in Lake Tahoe (210 inches) have shattered a 50-year-old record of 174 inches in 1970.
EXPANDED TERRAIN: After being closed multiple days over the past week and offering limited terrain when open, Tahoe ski resorts were increasing lifts and trails Wednesday.
One of three Vail Resorts in Tahoe, Northstar received 3 more inches of snow by Wednesday morning. By the noon hour the resort had 14 lifts running, accessing 93 trails, including the Backside.
Heavenly was operating 21 lifts and had 102 trails open, many of them on the Nevada side, which has been closed multiple times during the holiday period.
"Today felt like a more typical holiday week, which means there's quite a few people on our hills," said Vail Resorts spokesperson Sara Roston. "It's great to see people back and enjoying the fresh powder. Of course, with higher volume, we are appreciative of guest patience overall."
Sugar Bowl was operating eight lifts and 49 runs. It had 6 new inches of snow for skiers and riders.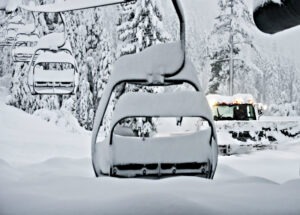 Sugar Bowl is currently limiting lift ticket and season pass sales to "maintain an uncrowded experience." All lift tickets must be purchased online in advance at least one day prior, allowing the resort to know and limit how many skiers and riders are on its slopes.
"While we saw more business than we have so far this season, I would not call it crowded," said Sugar Bowl spokesperson Jon Slaughter. "The conditions are outstanding right now and those who are visiting are treated to uncrowded slopes with plenty of powder."
Palisades Tahoe got 4 inches of new snow and Wednesday was running 14 lifts and 87 trails. The Alpine side had six lifts going, including the Summit.
With no issues from frequently closed State Route 431 over the past few days, Mt. Rose had all of its parking available and multiple lifts operating. It had 9 inches of new snow, the most among Tahoe ski resorts.
On Tahoe's gorgeous west side of the lake, Homewood Mountain was offering four lifts and 60 runs.
MISSING NORTHSTAR SKIER UPDATE: The search continued Wednesday for Roy Angelotta, who has been missing since skiing Christmas morning at Northstar.
The search continued Tuesday until 9 pm. Working on a tip, fresh tracks were found in deep snow at a remote area near the ski resort, according to Placer County Sheriff's officials. But the tracks were made by a bear, not Angelotta.
There were 35 people searching Tuesday, including Kelsey Angelotta, Rory's sister.
The group included Nordic Search and Rescue, Placer County Search and Rescue, Northstar California Ski Patrol, Nevada County Search and Rescue, Butte County Search and Rescue, Bay Area Mountain Rescue, Tahoe Backcountry Ski Patrol, and the Nevada Air National Guard.
Sheriff's officials said the National Guard was using a Blackhawk helicopter equipped with forward-looking infrared capabilities to help searchers in the extreme weather conditions. Rescue personnel have also been on skis, snowmobiles and a snowcat.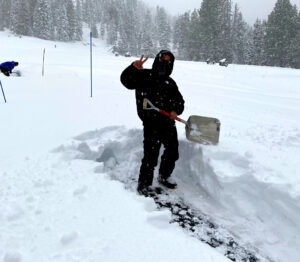 Weather conditions have greatly impacted the search efforts. The searchers have faced high avalanche danger, strong winds, whiteout conditions, frigid temperatures, and heavy snow loads.
WEATHER FORECAST: OpenSnow Forecaster Bryan Allegretto anticipates between 1 to 5 inches of snow falling Wednesday on Tahoe ski resorts, followed by a drier pattern likely through Jan. 2.
"There was a much more manageable storm (Tuesday) that brought light snow overnight and will continue Wednesday, dropping a fresh layer of powdery snow on top of the deep snow from the previous storms," Allegretto said.
Allegretto is predicting mostly sunny skies for Thursday through Sunday (Jan. 2). Temperature highs should be in the 20s on the upper mountains and 30s at lake level during that four-day period.
The extended forecast calls for heavy snow to return to the Tahoe region as early as Monday night. Once the storm does move in it could last into next Wednesday.
TAHOE SNOW REPORT (December totals thru Dec. 29)
Boreal: 283 inches
Mt. Rose: 275 inches
Northstar: 270 inches
Homewood: 257 inches
Palisades: 256 inches
Sugar Bowl: 255 inches
Diamond Peak: 207 inches
Kirkwood: 202 inches
Tahoe Donner: 196 inches
Heavenly: 181 inches