Three days of nearly nonstop snow could bring Tahoe ski resorts up to 8 feet of snow.
The National Weather Service (NWS) in Reno has issued a winter storm warning from 10 a.m. Monday through early Thursday morning. Snow totals during that period are expected to range from 2-4 feet at lake level and 4-8 feet above 7,000 feet.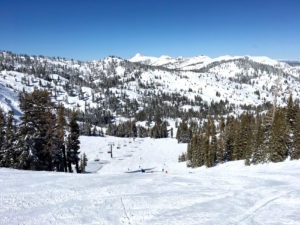 The bad news for skiing and snowboarding Lake Tahoe, where winds may gust as strong as 140 mph over Sierra ridges and the Sierra Avalanche Center has issued an avalanche watch from 5 p.m. Monday to 7 a.m. Thursday.
The heaviest snowfall, according to the weather service, is expected Monday night into Tuesday morning and Tuesday night into Wednesday morning.  The heavy snow and strong winds will complicate travel in the Tahoe Basin.
"Once snow begins in the Sierra by mid-late Monday afternoon (Feb. 25), it will be pretty much continuous all the way through early Thursday morning," the NWS is reporting.
It's already been a record-setting month for snow totals in February with many Tahoe ski resorts reporting new snowfall records. The result is Tahoe ski resorts have seven of the Top-10 snowfall totals among North American ski resorts.
According to the Snow Brains website Feb. 20, Tahoe ski resorts dominated the "Top 10 Biggest Snowfall Totals in North America" list (see below). Skiing Lake Tahoe has never been better. The extreme snow totals primary arrived this month, which the Lake Tahoe region has affectionately nicknamed "Februburied."
Mammoth Mountain has received 548 inches of snow this season, the most among North American ski resorts. Squaw was reporting the second largest total as of late last week with 507 inches.
"We've had only had three days this month that we didn't record snowfall. It's been crazy," said Squaw Valley spokesperson Liesl Hepburn.
According to Bryan Allegretto, OpenSnow California Snow Forecaster, Tahoe ski resorts could see a break for Thursday night into Friday, with some sun Friday.
"We may not see much of a break as the next storm should push in by Friday night and last into Sunday before moving out," reports Allegretto. "This storm could see snow levels peak around 6,500 feet before falling. We could see several inches of snow or more on the mountains over the weekend. The active pattern could continue into the 2nd week of March."
Top 10 Biggest Snowfall Totals in North America (reported Feb. 20)
Mammoth Mountain, CA: 548 inches
Squaw Valley, CA: 507 inches
Homewood Mountain, CA: 473 inches
Northstar Resort, CA: 449 inches
Mt. Baker Ski Area, WA: 445 inches
Boreal Mountain Resort, CA: 441 inches
Sugar Bowl Resort, CA: 439 inches
Kirkwood Mountain, CA: 434 inches
Snowbird Resort, UT: 434 inches
Brighton Resort, UT: 433 inches
Sierra-at-Tahoe, CA: 407 inches