The first snow of the season could result in up to 2 feet of snow at Tahoe ski resorts.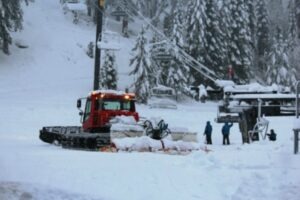 The National Weather Service (NWS) in Reno has issued a snow warning for Friday morning (Nov. 6) through Sunday evening that could have snow accumulating as low as 5,000 feet.
The warning says the snow totals by Monday could range from 6 inches to 2 feet in some areas. Along with snow, there will be gusty winds, much colder temperatures and chances for rain as well.
According to OpenSnow.com, the snow should arrive Friday morning (Nov. 6) and the white stuff could be dropping over the weekend as well.
But there's no rush for skiers and snowboarders to quickly wax their boards. No Tahoe ski resorts are planning to open for more than two weeks. However, a large accumulation of snow could change those plans as it typically does in November.
According to Bryan Allegretto, California Snow Forecaster for OpenSnow.com, the first system moves in early Friday morning. The second system should arrive Saturday night into Sunday and could be a little stronger.
The temperatures remain cool next week with the chance for a weak system later in the week. A more active pattern is a possibility by mid-November.
WEEKEND WEATHER: Friday's high is expected to be about 40 degrees with the overnight low near 20. There is a chance of rain in the morning, then snow likely gets added to the mix in the afternoon. According to the NWS, the snow level should start at 7,500 feet and drop to as low as 5,000.
Ridgetop winds could gust over 100 mph Friday morning before easing up later in the day. Snow levels starting around 8,000 feet, but fall below 5,000 feet, according to Allegretto.
It will get even colder Saturday with highs in the low 30s. It will remain near or below the freezing mark with the low dropping to about 20 overnight. There is a slight chance of snow showers.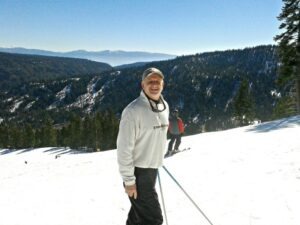 SEASON FORECAST: This is expected to be a La Niña winter, and that essentially means weather will be difficult to predict. La Niña is a weather phenomenon of cooling ocean surface temperatures where storms move south from the north. The Farmer's Almanac has named this year's winter – "Winter of the Great Divide."
SNOWMAKING: Some of Tahoe's largest ski resorts – Heavenly Mountain, Squaw Valley Alpine Meadows, and three other prominent Tahoe resorts – aren't waiting for snow to fall. Thanks to some cold overnight temperatures that began in mid-October, both resorts started making snow.
Squaw Valley Alpine Meadows says it fired up the snow guns Oct. 15 to test its snowmaking systems. The first dustings of manmade snow could be seen on the Lake View trail near the top of the Squaw Creek chairlift at Squaw Valley.
Squaw-Alpine plan to open Nov. 25, weather and conditions permitting.
Northstar California, along with two other Vail Resorts in Tahoe – Kirkwood, Heavenly – began snowmaking operations Oct. 25.
Tentative opening dates are Nov. 20 for Heavenly and Dec. 4 for Kirkwood. Northstar's opening is TBA.