Following a dry beginning to December, Tahoe ski resorts should be rejoicing Monday with a sizable amount of new snow.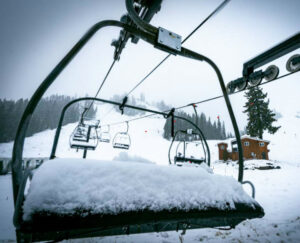 According to the National Weather Service, up to 18 inches of fresh snow could arrive in the Tahoe region this weekend, thanks to a pair of back-to-back storms hitting the Sierra.
The first storm started late Friday afternoon (Dec. 11) and should last into Saturday morning, dropping between 9-12 inches. A second storm arrives Sunday and could leave 3-6 inches. The snow will be heavy and wet, which is good for giving Tahoe ski resorts a nice base.
Snow levels will vary dramatically through the duration of the storms. The snow level will start around 4,000 feet during the first storm and rise to 7,000 feet. With the second storm, the snow level will be around 6,500-7,000 feet and drop to about 4,500-5,000 feet by Sunday evening.
While natural snowfall has been scarce thus far, due to cold evening temperatures, Tahoe ski resorts have been using their snowmaking equipment since mid-October to add and maintain their snow base. There are currently 13 Tahoe ski resorts open, with Tahoe Donner and Homewood Mountain staging their openers on Friday.
TAHOE SKI RESORT OPENINGS BELOW
EXTENDED FORECAST: The snow pattern remains active next week, but the storms continue to struggle to push south into Northern California, according to OpenSnow California forecaster Bryan Allegretto.
"The forecast models still don't agree on the storm track next week. Most models have the Wednesday-Thursday system staying mostly to our north and just brushing us with a dusting of snow at best," Allegretto wrote. "But the GFS model has been showing the storm coming farther south with several inches of new snow for the northern Sierra."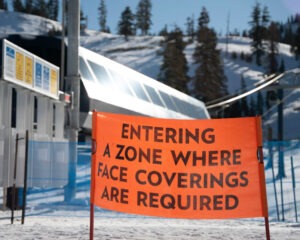 C0VID-19 UPDATE: Despite the latest Covd-19 restrictions in California, Tahoe ski resorts will remain open throughout December.
Under orders from Gov. Gavin Newsom, the Lake Tahoe region that lies in California is facing the same COVID-19 shutdown restrictions as much of the rest of the state. Newsom put in place a regional stay-at-home order Thursday as an "emergency brake" to curb the rampant spread of COVID-19 in California.
The rules are set to last at least through Dec. 31.
"New snow is in the forecast this weekend. Lift ticket quantities are limited, but there are still a few remaining," a statement issued by Sugar Bowl ski resort said. "Looking further ahead to the holidays, tickets, rentals and lessons are still available, but they're selling fast and we expect a sell-out."
TAHOE SKI RESORT OPENINGS
Heavenly: opened November 20
Northstar: opened November 20
Mt. Rose: opened November 20
Boreal: opened November 23
Squaw Valley: opened November 24
Alpine Meadows: opened November 24
Sierra-at-Tahoe: opened November 25
Sugar Bowl: opened November 27
Soda Springs: opened November 27
Kirkwood: opened December 4
Diamond Peak: opened December 4
Homewood: opened December 11
Tahoe Donner: opened December 11
Granlibakken: December 18