For skiers and snowboarders who love big powder days, the wait could be over.
A sizable storm will hit the Lake Tahoe region Monday and when it concludes expect to see more than a foot of snow at many Tahoe ski resorts.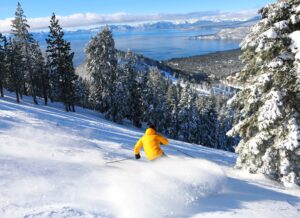 According to Bryan Allegretto, California Snow Forecaster for OpenSnow. the next storm moves in after midnight Sunday (Jan. 3) and lasts into Monday evening. It will bring snow with slow travel and chain controls over Donner Summit.
"Snowfall amounts around 1-5 inches at the base after a change to snow later in the day, 9-13 inches at mid-mountain, and 11-15 inches of new snow up top by Tuesday morning," writes Allegretto in his latest Tahoe report.
A break in the weather will result in an excellent powder day on Tuesday. There should be mostly sunny skies, high temperatures in the 30s, and the winds dropping off from the previous day.
Originally, the forecast looked extremely promising for Wednesday with more than a foot of snow predicted for Tahoe ski resorts. However, that forecast has been radically downsized.
Wednesday should start sunny with increasing clouds developing during the afternoon when ridgetop winds could hit 50-plus mph. A weak system moves through quickly later in the afternoon through Wednesday evening. Allegretto believes the dusting will result in an inch at the base of most Tahoe ski resorts, and 1-3 inches of snow at higher levels.
EXTENDED FORECAST: Another break in the weather takes place Thursday with mostly sunny skies and highs in the 30s with lighter winds. Another weak system may bring some light snow to the Tahoe region Friday. Yet another weak system is possible for Sunday (Jan. 10).
"We may continue to be on the southern edge of the storm track to start the week of the 11th, but then a drier pattern could be setting up for later in the week through mid-month," says Allegretto.
SIERRA SNOW PACK: The first snowpack survey of the season took place prior to the new year near South Lake Tahoe surprised state officials. The statewide snowpack is at 52% of median, but California Department of Water Resources (DWR) officials at Phillips Station near Sierra-at-Tahoe measured it to be 93% in that location. Surveys have been conducted at Phillips Station since 1941.
Sean de Guzman, chief of DWR's snow survey and forecasting, conducted the measurement and said the numbers are "a little bit higher" than what they have been seeing based on the automated snow sensory network, which is made up of about 130 different sensors placed throughout California.
The next survey is tentatively set for Feb. 2.