Led by snowboarder Jamie Anderson, Lake Tahoe Olympic athletes brought home four medals, including a pair of gold medals.
Here's a breakdown of how the eight Lake Tahoe athletes fared.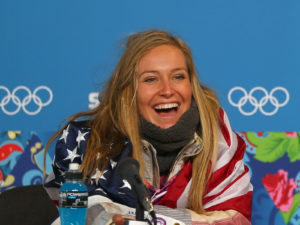 Jamie Anderson: Despite treacherous conditions that had many women enraged that the slopestyle snowboarding event wasn't canceled, Anderson scaled back her more aggressive plans for her PyeongChang Olympic appearance. She skillfully navigated the wind and came away with a gold medal to repeat as slopestyle snowboarding champion. She also earned a silver medal in the Big Air event.
The silver made Anderson the third snowboarder with three Olympic medals, joining Americans Shaun White and Kelly Clark.
How was the Sierra-at-Tahoe ski product able to do what many in the field of 25 slopestyle snowboarders could not? Adopting a more positive approach, Anderson decided it was a mind-over-matter moment.
"It (the weather) was so much of a struggle, but you just had to deal with it," Anderson said. "In winter sports there is always crazy weather."
In the Big Air event, Anderson nearly took gold, but Austrian Anna Gasser edged Anderson on her final effort to take gold.
David Wise: The Reno native also managed to be a repeat gold-medal winner. Wise had an incredible final effort to capture the gold in freestyle skiing.
Shaking off two previous frustrating runs where binding malfunctions had him popping out of his skis on aborted attempts, Wise made nary a mistake during his third trip down the humongous 660-foot halfpipe at Phoenix Snow Park. His score of 97.20 pushed him past U.S. teammate Alex Ferreira and into first place. Ferreira (96.40) finished in second place.
Wise, 27, fought through injuries and a lot of personal problems the past two years – deaths in his family, illnesses with his wife and son, plus his older sister Christy losing her right leg in a boating accident. A big-picture perspective helped enable the Reno native to head into his final Olympic halfpipe run with no fear of failing.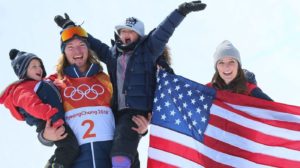 "The reality is every single run, no matter what is happening, is just another run through the halfpipe," Wise said. "So, I had to take a moment at the top. I'm a spiritual person and I believe that everything happens for a reason."
Brita Sigourney: On her third and final journey into the halfpipe, she produced her best effort, earning a score of 91.60 to edge U.S. teammate Annalisa Drew for the bronze medal in freestyle skiing. Sigourney finished sixth in the same event at the Sochi Olympics.
On her first run in Sunday's qualifying, Sigourney scored a 90.60, the highest total early in the competition. That score was the third highest going into Tuesday's finals for Sigourney, who grew up in Carmel and trained at Squaw Valley Alpine Meadows.
Maddie Bowman: Also competing in freestyle skiing, Bowman was seeking to repeat as gold-medal winner. But she endured a frustrating time in the halfpipe. On the last of three attempts at the Pyeongchang Olympics, Bowman landed too low and hit the snow hard, falling for a third consecutive time as her quest for a second straight gold medal went down with her.
"I didn't want to put down a safety run (on her final attempt), so I went for it. I sat back twice and then I fricken over-rotated a little bit," said Bowman, another Sierra-at-Tahoe product.
Bryce Bennett: Representing Squaw Valley Alpine Meadows, Bennett competed in men's downhill and finished in 16th, 1.97 seconds off the pace of gold medalist Aksel Lund Svindal of Norway. Earlier at the PyeongChang Olympics, Bennet placed 17th in men's alpine combined.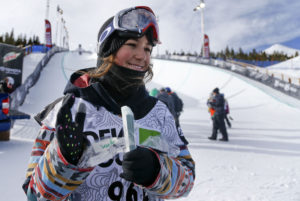 Stacey Cook: Her fourth and final Olympic appearance didn't go well. Cook, who suffered a crash in a World Cup race just days before the start of the Olympics, appeared to be in pain after her downhill training run and dropped out of the competition.
Cook who trains at Mammoth Mountain and now lives in Folsom, is a three-time World Cup podium finisher.
Mark Engel: Competing in men's slalom, the Truckee resident finished in 31st place. This was the first Olympic appearance for Engel, who represents Tahoe Donner Downhill ski resort and also has ties to Sugar Bowl ski resort.
Tim Jitloff: The Reno native did not finish his run in the giant slalom, crashing to conclude his lone Olympic event. Jitloff finished 15th in the giant slalom at the 2014 Winter Olympics.