The Christmas holidays will be quite different this year for Tahoe ski resorts.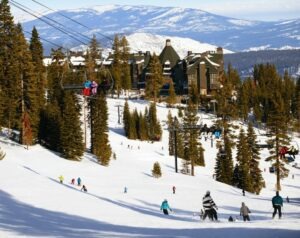 Due to the Covid-19 pandemic, the slopes will be much less crowded and so will the streets of Lake Tahoe, typically a magnet for skiers and snowboarders who want to spend Christmas time with family on a ski holiday.
Lodging is mostly nonexistent right now on the California side of Lake Tahoe. Nonessential travel to Lake Tahoe in the California region has been banned for the second time this year due to COVID-19 spread going off the rails. The travel ban will continue into early January.
The Nevada side of Lake Tahoe is not as restrictive, but cautionary measures have been implemented. Restaurants, bars, gaming operations, gyms, fitness facilities and other businesses and activities will be limited to 25 percent of applicable fire code capacity.
Nevada retail stores – including grocery stores – will remain at 50-percent of capacity, with strict social distancing and additional monitoring requirements. Public gatherings are limited to no more than 50 people or 25-percent capacity, whichever is less.
Private gatherings will be limited to no more than 10 people from no more than two separate households, and the State's face covering requirement will be extended to private gatherings.
"If they don't want to be part of the solutions, they should probably stay home," Nevada Governor Steve Sisolak cautions visitors to the Tahoe region.
But it's not all bad news. Tahoe's 14 ski resorts will stay open – but it's best to check if a reservation is needed due to crowd limits each day. The lockdown order exempts outdoor recreation.
While renting a room on the California side of Lake Tahoe is off-limits to visitors, taking advantage of the area's breathtaking nature is still very much a possibility.
NATIONAL LODGING SUFFERING: The surging pandemic and mixed economic indicators are combining to negatively impact mountain resorts throughout the western U.S., with marginal snowfall at some destinations adding to the mix as tentative gains during October reversed course in November.
Aggregated data from 18 mountain destinations in seven western states was compiled and analyzed by DestiMetrics, the business intelligence division of Inntopia. It revealed sharp declines in several categories as of Nov. 30 as ski and snowboard resorts move into the crucial holiday season.
For the month of November, occupancy was down 15.2 percent in a year-over-year comparison to last November, while the Average Daily Rate (ADR) for the month was up a strong 23 percent.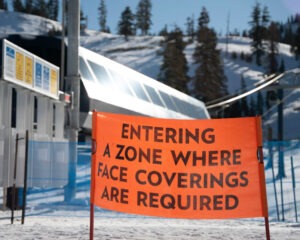 Despite the decrease in occupied rooms, the strong rates enabled properties to achieve a 4.3 percent gain in revenue compared to last year, marking the second consecutive monthly revenue gain and only the second time since February.
The downward trend for winter became apparent when bookings made during the month of November for arrivals in all six months from November through April dropped a dramatic 44.1 percent compared to the same time last year.
The steep decline in booking pace led to a sharp 34.9 percent decline in occupancy for the six-month winter season as of Nov. 30. Helping mitigate the impact of weak occupancy is the relatively stable ADR for the winter – down a moderate 2.2 percent.
However, the combination of low occupancy and flat rates is leading to a significant 36.4 percent decrease in on-the-books revenue.
"As the winter season kicked off in early November, there was optimism about the Thanksgiving holiday, the opening of many ski resorts with new operational safety plans," observed Tom Foley, senior vice president for Business Operations and Analytics for Inntopia. "But what started out with such a promising uptick during October, changed abruptly due to the rising surge in COVID-19 cases across the entire country and led to increased cancellations and a notable decrease in new bookings."