A long-awaited severe snow storm, that could result in 5 feet of snow when it concludes, arrived at Tahoe ski resorts Friday evening.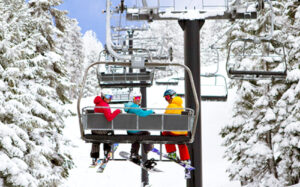 Lake Tahoe residents woke up Saturday morning to a fresh layer of snow that dumped at least a few inches on most Tahoe ski resorts, who remain open for skiing and snowboarding. The snow could continue for more than a week. Some forecasts are reporting snow into the week of March 23rd.
Kirkwood Mountain reported 5 inches overnight, the most among Tahoe ski resorts. Sierra-at-Tahoe received 4 inches and Squaw Valley got 3 inches by Saturday morning (March 14).
The snow comes at a very opportune time. Tahoe ski resorts have had very little snow since December and the snow totals were way down for a region that typically gets large snow totals each ski season.
It's dark, snowy, windy and this current Tahoe storm isn't supposed to end until early Monday morning. And then a second wave will likely move in, according to the National Weather Service in Reno.
Bryan Allegretto, OpenSnow.com California Snow Forecaster, predicts that Kirkwood could receive a little more than 5 feet of snow by Monday morning (March 16). Allegretto believes at least six other Tahoe ski resorts will be reporting more than 3 feet of snow by Monday and every resort will have at least of foot of new snow by then.
"We are just getting started with this storm this morning (Saturday). We have a 3-4 day storm that will bring heavy snow and gusty winds through the weekend," wrote Allegretto.
HIGH WINDS: The snow arrived Friday night and so did the winds. Ridgetop winds were expected to gust to 70-plus mph through Saturday and possibly continuing through Sunday. Many Tahoe ski resorts were predicting closures to upper mountain lifts Saturday and maybe a few on Sunday.
Squaw Valley started Saturday morning with its Funitel and numerous lifts not running due to the extreme high winds. Heavenly Mountain was not running its popular Gondola.
"Currently we know that we will not be running The Tram or High Camp facilities, Headwall, Siberia, Emigrant, Granite Chief, Solitude, Mountain Meadow, Belmont, or Bailey's," a Squaw Valley Alpine Meadows press release stated late Friday afternoon.
TRAVEL ISSUES: Travel impacts are being felt on both sides of Lake Tahoe. Interstate 80 was closed early Saturday morning to eastbound traffic while CalTrans cleared a vehicle collision caused by the snowy conditions. I-80 has reopened later Saturday with chain controls.
Chain controls are also in effect on Highway 50 heading into South Lake Tahoe. Officials are advising all drivers to proceed with extreme caution due to the difficult conditions.
EXTENDED WEATHER REPORT: Allegretto advises that the snow will be steady throughout Saturday with heavy snow expected Saturday night into Sunday. That will be followed by light to moderate snowfall through Sunday night.
He says the storm continues to bring snow showers Monday that eventually become scattered by Tuesday. Snow showers are possible Wednesday through Friday as one storm departs and the next approaches. Allegretto believes another storm could move into Tahoe next weekend and the active pattern may continue through the week of March 23rd.