Although its opening is likely a month away, Sugar Bowl has begun the snowmaking process.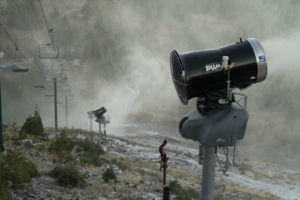 Situated off Interstate 80 at Norden exit, Sugar Bowl announced Oct. 30 it has begun making snow in preparation for the 2018-19 ski season. The Lake Tahoe-area resort will continue snowmaking as temperatures permit and is aiming for a Nov. 30 opening, weather and conditions permitting.
When skiers and snowboarders visit Sugar Bowl this season they will be sliding on more snow, produced in less time, using less energy, than ever before.
This summer the first $3 million of an $8 million snowmaking system upgrade and expansion at Sugar Bowl was invested to produce more snow to cover trails, race venues and terrain parks faster.
The $8 million snowmaking system initiative will be completed in three phases, which at conclusion will result in:
More snow, faster: Thanks to doubling its water pumping capacity and the latest snow gun technology, the time it takes to cover Sugar Bowl's snowmaking terrain will be reduced by two-thirds.
Reduced energy consumption: With the addition of over 150 low energy-use snow guns (low E's), Sugar Bowl will significantly reduce its need for high-pressure compressed air.
Reduced carbon emissions: Less compressed air equals elimination of diesel-powered air compressors and a significant reduction in CO2 gas emissions.
Snowmaking coverage on Mt. Disney: Pending regulatory approvals, snowmaking will be added to the popular advanced terrain on Mt. Disney, including the black diamond run, East Face, Disney Traverse, Montgomery, and Upper and Lower McTavish trails.
BOREAL MOUNTAIN: Some years, Boreal Mountain has been opening its resort in time for Halloween. But this year won't be one of them, according to Boreal spokesperson Tucker Norred.
"No, Boreal will not be opening on Halloween this year. Our current scheduled opening date is Nov. 9, but we will open as soon as we can if conditions allow it," Norred wrote Tuesday in an email.
A year ago, Boreal opened Nov. 8, becoming the first California ski resort to open for the 2017-18 season.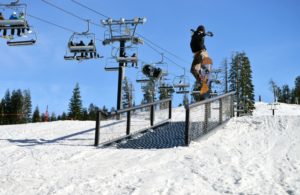 For more than a decade, Boreal Mountain was typically the first Lake Tahoe-area ski resort to open. However, that role has been taken over by Mt. Rose, a Nevada resort near Lake Tahoe that has been the first to open for the last four seasons. Mt Rose opened this year for skiing and snowboarding season passholders briefly on Oct. 19-20, then promptly shut down.
This year, Boreal is building a new beginner chairlift. For the past 54 years, Boreal says it has taught more people to ski and ride than anyone else in Northern California. Boreal has good beginner terrain for anyone that wants to begin their journey on snow. Skiers and riders are able to progress from learning the basics to testing their limits on terrain parks, snow features and jibs.