A second straight day of snow left Sugar Bowl with 25 inches, the most among Tahoe ski resorts.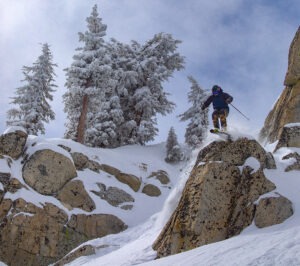 For most Tahoe ski resorts, the reported amount of snow Wednesday (March 10) was more than Tuesday's totals. Sugar Bowl received 15 inches at its summit by Wednesday morning and had 10 inches the previous day.
Squaw Valley also had an impressive two-day total, getting a combined 21 inches, while neighboring Alpine Meadows had 18 inches. Squaw-Alpine recently announced its scheduled closing day will be May 31 (Memorial Day), most likely the last among the Tahoe ski resorts to close for the 2020-21 season.
Tahoe Donner got 10 inches of new snow each day for a 20-inch total. Homewood was reporting 13 inches of snow Wednesday after getting 5 the previous day.
"Ski areas west of Lake Tahoe and along the Sierra crest from Sugar Bowl down to Mammoth are reporting 9-15 inches of new snow in the past 24 hours," wrote Bryan Allegretto, California Snow Forecaster for OpenSnow.com. There was 4 inches on the east side of the lake. Storm totals of 11-25″ down the west side so far and 5-11″ east of the crest.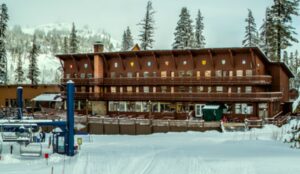 TAHOE SNOW REPORT (two-day totals, March 9-10)
Sugar Bowl: 15-10 – 25 inches
Squaw Valley: 10-11 – 21 inches
Tahoe Donner: 10-10 – 20 inches
Alpine Meadows: 9-9 – 18 inches
Homewood: 13-5 – 18 inches
Kirkwood: 14-1 – 15 inches
Mt. Rose: 8-4 – 12 inches
Boreal: 12-0 – 12 inches
Soda Springs: 12-0 – 12 inches
Sierra-at-Tahoe: 10-2 – 12 inches
Northstar: 4-7 – 11 inches
Heavenly: 7-1 – 8 inches
Diamond Peak: 3-1 – 4 inches
WEATHER FORECAST: The snow was sporadic at Tahoe ski resorts early Wednesday, with starts and stops through early afternoon. Allegretto says snow showers will likely continue through Thursday, following the two days of previous snow.
He anticipates seeing lighter, more scattered snow showers Wednesday afternoon. then a lull is possible by the evening. As the low moves into Southern California, there could be "wrap-around snow showers from the east Thursday."