Ski season in Lake Tahoe still lies on the horizon. However, snow has already arrived for many Lake Tahoe ski resorts.
One of those resorts is Squaw Valley Alpine Meadows. The snowstorm that came through the Sierra this past weekend (Sept. 28-29) dropped a total of 4 inches of snow on Squaw Valley and neighboring Alpine Meadows. Two inches of snow fell at 8,000 feet between Saturday and Sunday, and another 2 inches fell overnight on Sunday.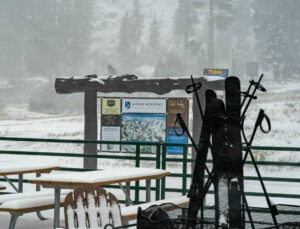 It had been steadily, lightly snowing down to the base of the resort all morning, so Squaw officials were anticipating the final storm totals would increase slightly by the time the clouds cleared. Skiers and snowboarders who are eagerly awaiting to start of the season were excited by this recent snowfall.
Opening day for Squaw Valley Alpine Meadows is scheduled for less than 50 days away on Nov. 15, weather and conditions permitting.
The recent snow was falling at Alpine Meadows while the lift construction team used a helicopter to install the new Treeline Cirque chairlift. The new Treeline Cirque chairlift at Alpine Meadows is a $10 million detachable, high-speed quad chair that will transport skiers and riders from base area to the Sherwood ridge in a total of five minutes.
The lift will feature a mid-station for quick access to some of Alpine's best low-intermediate terrain. From the top terminal skiers and riders can drop into expert terrain on the frontside or venture into the back bowls of Sherwood, which boast the resort's best views of Lake Tahoe.
The protected alignment of Treeline Cirque makes it favorable in high winds and inclement weather, and the rapid access from the base area will dramatically improve the skier experience for a wide range of ability levels.
Visit www.squawalpine.com for more information.