Squaw Valley ski resort in Lake Tahoe will offer $5 lift tickets in June.
Skiers and snowboarders of all ages are invited to celebrate spring on the slopes at Squaw Valley with $5 lift tickets on four consecutive Fridays in June. "Five Dollar Fridays" will benefit the Tahoe Fund, a nonprofit organization that supports environmental improvement projects that restore lake clarity, enhance outdoor recreation, promote healthier forests, improve transportation and inspire greater stewardship of the region.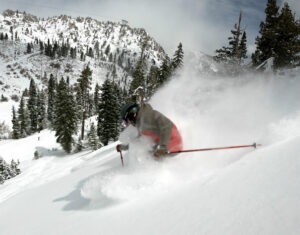 All proceeds from advanced online lift ticket sales – Fridays, June 7-14-21-28 – will support the Tahoe Fund's goal of raising $35,000 to assist the Lake Tahoe Bicycle Coalition in providing "Bike Racks for Basin Businesses." Through this program, the Tahoe Fund and Lake Tahoe Bicycle Coalition will provide low- or no-cost bike racks to businesses in the Lake Tahoe Basin to encourage locals and visitors to ride instead of drive.
Squaw Valley Alpine Meadows has committed to matching ticket sales with an additional donation of up to $10,000.
"Squaw Valley Alpine Meadows has been a long-time supporter of the Tahoe Fund through our 'Green Bucks' fundraising program," said Amy Berry, CEO of the Tahoe Fund. "Because of their support, we've been able to build new hiking and biking trails in the Tahoe Basin, and support initiatives that help get people out of their cars. We are thrilled that with the resort's help, not only can people ski for only $5 on Fridays in June, but we'll be able to install more bike racks at locations around the lake."
Five Dollar Fridays lift tickets must be purchased online or through the Squaw Valley Alpine Meadows app more than 48 hours in advance. Lift tickets purchased on-site on Fridays or online within 48 hours will be priced at $39 (all ages, four and under are free) and will not include a donation to the Tahoe Fund. The $5 lift ticket is not valid for use on the Tram.
One of the best examples of how the Tahoe Fund is working to get people out of their cars is through support of the new Tahoe East Shore Trail, a paved multi-use trail that connects Incline Village to Sand Harbor. The completion of this 3-mile-long section on Lake Tahoe's east shore is a significant step in a multi-agency effort to reduce reliance on motor vehicles and improve pedestrian and bicyclist safety along the Lake's longest uninterrupted stretch of undeveloped shoreline.
Following a record-breaking season that stacked up over 700 inches of snow and counting, Squaw Valley remains open through July 7. It is operating a seven day a week schedule until Memorial Day, at which time it will switch to Friday-Sunday operations until the Fourth of July weekend.
This surprising onslaught of snow also has Squaw extending operations for the KT-22 lift. The famed KT-22 (which was slated to close July 20) will now stay open all Memorial Day weekend and close, Monday, May 27, weather and conditions permitting.
One other Tahoe ski resort also remains open. Heavenly Mountain has received a foot of new snow over the past week and has extended its ski season through May 27. It is currently open Friday through Sundays from 9 am to 4 pm via the Gondola.
Gold Coast Beach Bar: Every weekend through Memorial Day, the new Gold Coast Beach Bar at Squaw Valley's upper mountain will be the place to kick back with a cold drink on the snow beach. Grooming machines will lay down flat corduroy outside Gold Coast, one of Squaw Valley's largest lodges and right in the heart of the action.
High Camp Hot Tub: The giant jacuzzi tub at High Camp resides at 8,200 feet. The tub-side Umbrella Bar serves cold beers and cocktails and offers spectacular views of Lake Tahoe and the surrounding Sierra Nevada mountains. If not a skier or rider, the scenic Aerial Tram in the Village at Squaw Valley takes sightseers straight to High Camp.