In terms of snow fall recorded Tuesday morning at Tahoe ski resorts, it was a case of the haves – and unfortunately the have nots!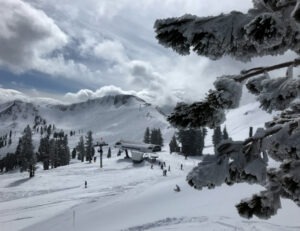 Several Tahoe ski resorts received double digit totals in snowfall that began Monday evening and was recorded Tuesday morning (March 9).
Squaw Valley had the most recorded snow with 11 inches at its summit. Both Sugar Bowl and Tahoe Donner reported 10 inches this morning and Alpine Meadows had 9. The downside was two resorts – Boreal Mountain, Soda Springs – had no recorded snow and three other Tahoe ski resorts had just 1 inch overnight.
"The mountains are once again snow-capped in the Sierra, as we received 11 inches of new snow on the upper mountains at Squaw Alpine in the last 24 hours," said Squaw-Alpine spokesperson Alex Spychalsky. "The snow will continue on and off throughout the today (Tuesday), with a few more inches of accumulation expected. The storm is forecast to intensify tonight, and we could see another 5-8 inches on the mountain by Wednesday morning."
TAHOE SNOW REPORT (snow Tuesday, season totals)
Squaw Valley: 11-249 inches
Alpine Meadows: 9-245 inches
Sugar Bowl: 10-238 inches
Boreal: 0-224 inches
Soda Springs: 0-223 inches
Sierra-at-Tahoe: 2-222 inches
Homewood: 5-204 inches
Kirkwood: 1-197 inches
Northstar: 7-178 inches
Mt. Rose: 4-173 inches
Tahoe Donner: 10-161 inches
Heavenly: 1-156 inches
Diamond Peak: 1-138 inches

Northstar California received 7 inches of new snow by Tuesday morning and is expecting to add to that total the next two days.
Squaw Valley has recorded the most snow this season with 249 inches. Alpine Meadows is not far behind with 245 inches, followed by Sugar Bowl (238) and Boreal (224).
WEATHER FORECAST: According to Bryan Allegretto, California Snow Forecaster for OpenSnow.com, snowfall was continuing Tuesday and is expected to last through Thursday. It could produce an additional 7-16 inches for Tahoe ski resorts.
Allegretto predicts nine of Tahoe's 13 ski resorts could reach double figures in snow totals by Thursday morning.
"March can be a very snowy month at Sugar Bowl and the National Oceanic and Atmospheric Administration is predicting up to 20 inches of snow in the next several days," said Sugar Bowl spokesperson Jon Slaughter. "For those (skiers and riders) waiting for the snow south of the lake, this is when you will finally see the accumulating snowfall."
Allegretto says the Tahoe region could see an additional dusting up to an inch or two Tuesday afternoon. Then the snow comes down a lot harder with 6-12 inches on the mountains Tuesday night into Wednesday.
He anticipates seeing lighter, more scattered snow showers Wednesday afternoon. then a lull is possible by the evening. As the low moves into Southern California, there could be "wrap-around snow showers from the east Thursday."