Squaw Valley Alpine Meadows will begin offering its spring season pass March 5, that includes next season.
After debuting in January 2018, the Ikon pass enters its second season with 38 global winter destinations, a new payment plan, and renewal discounts. The pass not only covers spring skiing this year, but extends fully into the 2019-20 ski season.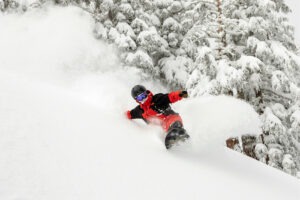 The 2019-20 Ikon pass goes on sale Tuesday (March 5) with benefits that include free spring skiing and snowboarding Lake Tahoe at Squaw Valley Alpine Meadows, starting April 8, 2019.
The resort is in the midst of a record-breaking snow season. Squaw Valley received the most February snow – 313 inches – of any Tahoe ski resort, shattering its previous record for most snow in a month. Squaw Valley has received 570 inches of snowfall this season.
Ikon pass holders will experience the "Spring Skiing Capital" in full swing this season with signature grooming and terrain parks, wacky events and the unforgettable ski-in ski-out High Camp Hot Tub at 8,200 feet.
While Squaw Valley Alpine Meadows has not yet announced a closing day, it is gearing up for months of spring skiing and riding, where it traditional has hosted Tahoe's longest season.
The Ikon pass offers unlimited access to 14 destinations, plus seven days and seven days combined at 23 destinations, with no blackout dates.
A new payment plan is available for the Ikon pass and Ikon Base pass if purchased before Wednesday, April 24, with a $199 deposit plus four monthly payments, June – September 2019.
Unlimited access to other resorts: The resorts include Steamboat, Winter Park Resort, Copper Mountain Resort, Eldora Mountain Resort, Squaw Valley Alpine Meadows, Mammoth Mountain, Big Bear Mountain Resort, June Mountain, Stratton, Snowshoe Mountain, Crystal Mountain, Solitude Mountain Resort, Tremblant, and Blue Mountain.
7 days at other resorts: The resorts include Deer Valley Resort, Jackson Hole Mountain Resort, Big Sky Resort, Revelstoke Mountain Resort, Sugarbush Resort, Boyne Mountain, Boyne Highlands, The Summit at Snoqualmie, Cypress, Sunday River, Sugarloaf, Loon Mountain, Taos, Brighton, Thredbo, Valle Nevado.
For more information, visit www.ikonpass.com.