Squaw Valley Alpine Meadows announced that it will not be using a reservation system this upcoming season for skiers and snowboarders.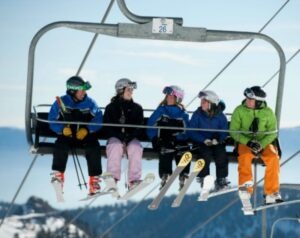 Due to Covid-19 considerations, some Tahoe ski resorts and resorts around the nation will be relying on a reservation system to limit the number of skiers and snowboarders on their mountain at any one time. Yet Squaw Valley Alpine Meadows will keep its numbers in check by other methods.
"Squaw Valley Alpine Meadows intends to serve its guests without a reservation system," said Ron Cohen, Squaw Valley Alpine Meadows President and Chief Operating Officer. "Pass holders will continue to have the best and most flexible access to the resort. We plan to manage general visitation by temporarily eliminating the sale of 'walk up' tickets at the window, and dynamically controlling the sale of advance purchase tickets. At this time, we expect such tickets to primarily be available mid-week, but we will remain flexible as we learn more throughout the season."
Squaw-Alpine is owned by the Alterra Mountain Company. According to Alterra CEO Rusty Gregory, the company's priorities right now are providing space for social distancing at its two mountains, and remaining flexible in the face of the inevitable changes to come throughout the season. He says although elements of the resort experience will be different this season, the experience of skiing and snowboarding itself remains the same.
Like most resorts nationwide, Squaw-Alpine is totally immersed in preparing for this unusual season.
"Skiing has always had at its center the incredible personal freedom one experiences while engaged in the sport, balanced against the personal responsibility of sharing the slopes with everyone else," Cohen said. "This year more than ever, our guests will need to carry both sides of that equation with them, so that everyone can have the best possible experience within a Covid-modified environment."
Squaw-Alpine is prioritizing access for season pass holders and will tightly regulate the number of daily lift tickets that will be available by advance purchase only. Walk-up window sales will be eliminated, and the sale of most undated lift ticket products will be discontinued until further notice. Visit www.squawalpine.com website for more information regarding policies.
Gregory says the health and well-being of Alterra Mountain Company guests, employees, and local communities will be our company's highest priority.
"Since last winter's resort closures, our teams have been working to develop operating plans and protocols designed to mitigate the spread of COVID-19," Gregory said. "We are intently focused on complying with local, county, and state regulations and offering the best guest experience possible for the 20/21 season. The effectiveness of these plans will rely on your cooperation with our enforcement of face coverings, social distancing and crowd management on and off the mountain."
For more information, visit www.squawalpine.com/2020-21-winter-experience.