Skiers and snowboarders who purchased a season pass this year from a Tahoe ski resort can receive an added bonus: they can ski the remainder of the season at Squaw Valley Alpine Meadows for a discounted price.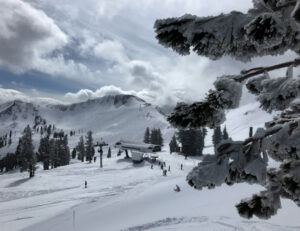 Squaw Valley Alpine Meadows is now the only Tahoe ski resort still open for skiing and riding. While the remaining Tahoe ski resorts closed the previous two weekends, Squaw-Alpine is planning to operate as late as weather and conditions allow.
The scheduled closing date for Squaw-Alpine is Memorial Day, May 31.
Squaw-Alpine Meadows has reintroduced a discounted lift ticket for pass holders from any other ski resort. Guests can simply show a 2020-21 season pass from another resort and receive 25-percent off walk-up lift tickets, seven days a week.
These tickets are available at walk-up ticket windows only, no advanced booking is required. The deal will be available through the remainder of the season.
Ticket prices at Squaw-Alpine currently range between $90 to $149 prior to any discount.
"We didn't have the opportunity to enjoy spring turns last season (due to Covid-19), so this year we want to make sure that the Spring Skiing Capital is easily accessible to those who aren't ready to hang up their gear yet," said Tom Feiten, vice president of marketing and business development at Squaw Valley Alpine Meadows. "Spring conditions are in full swing, and it's the perfect time for a classic Tahoe multi-sport day."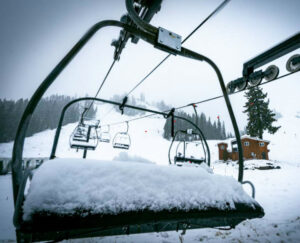 SNOW ARRIVES SUNDAY: A late-season storm moves in Saturday (April 24) with gusty winds and a few showers possible. The snow should drop to base level Saturday night into Sunday evening, then clearing takes place Monday with a few scattered snow showers possible. Drier and warming weather returns by Tuesday through the end of the week.
According to Bryan Allegretto, California Snow Forecaster for OpenSnow, Squaw-Alpine should receive 5-10 inches of new snow by Monday morning.
"The snow showers increase after midnight on Saturday. We should see snow showers through the day on Sunday and into Sunday night," wrote Allegretto. "Then it tapers off by Monday morning. High temperatures are only in the 30s. Ridgetop winds may come down some for Sunday with gusts of 40-50-plus mph up top."
The storm has been trending drier over the past 24 hours. The latest forecast model runs have pulled back on the snowfall amounts for the mountain through Sunday night. By Monday morning we could now see 2-5 inches at the base and 5-10 inches on the mountain.
IKON PASS NOW INCLUDES SCHWEITZER: Alterra Mountain Company recently announced the Ikon Pass – that includes Squaw-Alpine – has expanded its access and terrain in the Pacific Northwest with the addition of Schweitzer ski resort in Idaho.
Schweitzer is known for its big terrain, big views and big powder days. Ikon Pass holders can now take advantage of 45 destinations for the 2021-22 winter season. Schweitzer is located in the Selkirk Mountains overlooking the picturesque town of Sandpoint, Idaho, only 80 miles from Spokane, Wash.
Schweitzer offers 2,900 acres of mountain terrain with stunning views of Lake Pend Oreille, two neighboring states, and Canada.
Schweitzer is the largest ski area in Idaho and Washington, and is often recognized for its renowned tree skiing and family fun.
IKON PASS DISCOUNT: There are two weeks left to buy a discounted Ikon Pass – starting at $399. Prices go up May 5. Adventure Assurance comes free this year with every 2021-22 season pass.
The Ikon Pass is on sale now at ikonpass.com.