Squaw Valley received a post-Christmas gift, getting 17 inches of new snow for holiday skiers and snowboarders to enjoy.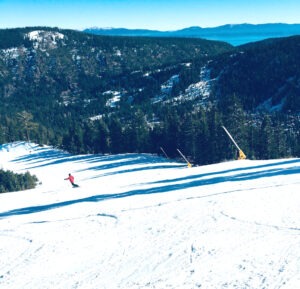 The snow began Christmas Day and continued into Saturday afternoon. The amount of snow for Tahoe ski resorts varied from 4-17 inches. There were nine ski resorts that received 10 or more inches from the two-day storm.
SEE TAHOE SNOW REPORT BELOW
Alpine Meadows, a few miles away from Squaw Valley, got the second most snow – 15 inches. Boreal Mountain received 14 inches and so did nearby Soda Springs. Sugar Bowl got 13 inches, while Kirkwood Mountain and Tahoe Donner each received 12 inches.
Squaw Valley is currently operating 13 lifts and Alpine has eight lifts operating Sunday.
Two Vail Resorts in Tahoe were not as fortunate. Heavenly Mountain, where many skiers and riders congregate over the Christmas holidays in South Lake Tahoe, got just 4 inches of new snow. Located in North Lake Tahoe, Northstar California received 5 inches from the storm.
According to Bryan Allegretto, California Snow Forecaster for OpenSnow, Tahoe ski resorts could receive an additional 1-3 inches by Monday morning (Dec. 28).
"There will be increasing clouds Sunday with snow showers moving in south of the lake by evening," wrote Allegretto. "There should be snow showers Sunday night into Monday with a dusting up to a few inches of snow."
The disappointing snow total is due to an unusual weather pattern. The system moving in today is tracking slightly farther south, mostly missing the Tahoe Basin.
On satellite Sunday morning the storm looked like it was headed straight into Northern California, but Allegretto says it will "slide south through the day and into Southern California tonight."
Unfortunately, that means Tahoe ski resorts may only see very meager amounts of precipitation, with higher amounts headed south of the lake into the southern Sierra mountain range.
"It's a tricky forecast because normally we have precipitation from west to east across the area, and this time it's from north to south," wrote Allegretto.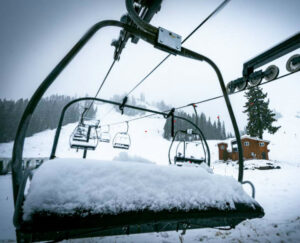 EXTENDED FORECAST: Tuesday into Wednesday there should be mostly sunny skies with high temperatures in the 30s at many Tahoe ski resorts.
There should be increasing clouds later Wednesday with a weak system that night into Thursday morning with another dusting up to a few inches.
There's a likelihood of 2-3 inches of snow falling by Thursday. New Year's Day is looking like mostly sunny skies and highs in the 30s with a chance of some breezy winds.
TAHOE SNOW REPORT (reported Dec. 27)
Squaw Valley: 17 inches
Alpine Meadows: 15 inches
Boreal: 14 inches
Soda Springs: 14 inches
Sugar Bowl: 13 inches
Kirkwood: 12 inches
Tahoe Donner: 12 inches
Sierra-at-Tahoe: 10 inches
Mt. Rose:10 inches
Homewood: 9 inches
Diamond Peak: 5 inches
Northstar: 5 inches
Heavenly: 4 inches