South Lake Tahoe is open for business again.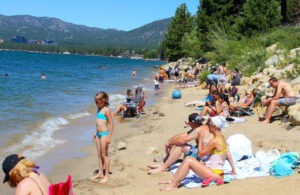 Following nearly two weeks of evacuations over fire safety concerns for residents and their homes, officials, locals and businesses are pulling together to heal and return to normalcy that starts Thursday (Sept. 16).
With more than 22,000 residents returning home, local businesses are opening their doors to employees and customers, and students will also return to school, starting Thursday.
South Lake Tahoe was forced to evacuate as the fire entered the Tahoe Basin, but thanks to the hard work of firefighters, the city was saved. The city is determined to turn the corner on the Caldor Fire and have its idyllic Sierra Nevada destination back to full operations.
Evacuation orders for all neighborhoods have been lifted, with Christmas Valley and Meyers still in an evacuation warning scenario, which presents the need to stay mobile if conditions shift.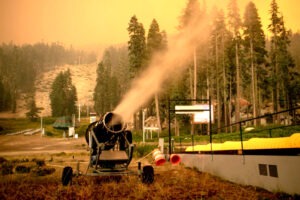 "This has been emotionally draining for weeks over the numerous concerns, but we are resilient, and the countless ways our community has come together to support one another is heartwarming," said Carol Chaplin, president and CEO of the Lake Tahoe Visitors Authority.
While a full-fledged visitor outreach is forthcoming, the priority for the popular tourist destination is now for residents to get settled safely and back to work.
Increased openings at lodging establishments, restaurants and among recreational activities with even more openings in the next few days have also marked the community's collective desire to rebound.
The Lake Tahoe Visitors Authority recommends contacting accommodations, dining, and activities directly to confirm availability. Also, check Destination Update and @TahoeSouth social media channels for the latest updates on re-opening.
The city projected the Tahoe economy would lose about roughly $40 million because of the Caldor Fire. The evacuations meant South Lake Tahoe and much of the lake were closed during the normally busy Labor Day weekend.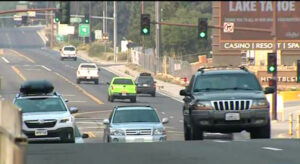 "Many of our businesses supported our firefighters and first responders over the past few weeks and, we're even more enthusiastic to welcome back visitors and share the experiences we're known for," said Jerry Bindel, general manager of Forest Suites and LTVA Board Chair.
The Caldor Fire containment is at 70 percent, but it remains imperative to keep traffic at a minimum in residential neighborhoods, and areas where firefighters and first responders are still working so they can safely complete the job. Full containment is expected by the end of September.
Currently, U.S. Highway 50 as well as U.S. Forest Service Lands, California and Nevada State Parks remain closed, with hopeful anticipation for openings soon. Heavenly Mountain Resort ceased operations for the season and will open for winter Nov. 19.
For an ongoing list of those who continue to help make the community #TahoeStrong see https://tahoesouth.com.
For more information on South Lake Tahoe, contact: Jenn Boyd Lemming or Phil Weidinger at Weidinger Public Relations. Call 702 278-1932 or send emails to  jennifer@weidingerpr.com.
.