It's been an incredible season for snowfall at California ski resorts.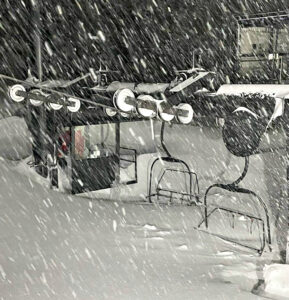 Eight ski resorts in the golden state established new snow totals for the 2022-23 season. Four of the eight ski resorts were in the Lake Tahoe region. Not surprisingly, there are multiple ski resorts still open as May approaches. Both Palisades Tahoe and Mammoth Mountain are scheduled to remain open into July
Below is a look at California ski resorts who have broken their previous mark for snow totals. Note that all totals are measured at the summit of each resort.
HEAVENLY (570 inches): One of the largest ski resorts in California, the South Lake Tahoe resort saw incredible amounts of snowfalls this winter, breaking the old mark of 564 inches in 2016-17. Heavenly averages 360 inches in a normal season.
KIRKWOOD (708 inches): Situated approximately one hour from South of Lake Tahoe, Kirkwood receives an average snowfall of 350 inches. So, this year's total more than doubles that average amount.
PALISADES TAHOE (710 inches): The former Squaw Valley ski resort got 10 inches of new snow last week, which gave it the new record. The previous mark was 707 inches in 2016-17.
Typically, Palisades Tahoe boasts the highest annual snowfall among Tahoe ski resorts with 400 inches of snow.
BOREAL (743 inches): The smallest resort on this record-setting list, Boreal typically gets about 300 inches annually. The resort, located off Interstate 80 at Donner Summit, closed Sunday (April 23).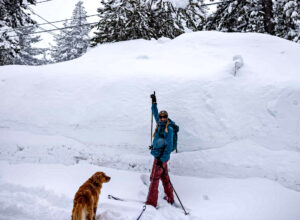 BEAR VALLEY (672 inches): What a difference a year makes? Last season, Bear Valley recorded a meager total of 236 inches. The record 672 inches of snow it received in 2022-23 is only 25 inches less than the resort received in the previous three seasons combined.
The resort, located in the Central Sierra mountain range, had a previous record of 639 inches 40 years ago in the 1982-83 season.
DODGE RIDGE (737 inches): Situated in the Sierra Nevada Mountains, Dodge Ridge has received more than 60 feet of snowfall for the season. The amount is over 230 percent of its average snowfall for an entire season. Its average yearly snowfall is 350 inches.
CHINA PEAK (701 inches): Located deep in the central Sierra Nevada mountains, southwest of Fresno, the resort shattered its previous record of 549 inches. On average, China Peak sees 300 inches of snowfall a year.
MAMMOTH MOUNTAIN (885 inches): This year's new record was the most snow among all California ski resorts. Mammoth Mountain usually gets around 400 inches of snow per season.
The 2022-23 total more than doubled this season at its location in California's Eastern Sierra range. It had a huge total at its base as well – 705 inches. On an average season, Mammoth gets 400 inches at its Main Lodge base.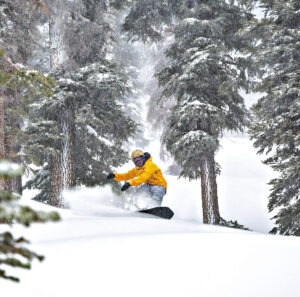 RECORD SNOW SEASON FOR UTAH SKI RESORTS
Alta: 894 inches
Brighton: 868 inches
Snowbird: 820 inches
Park City: 631 inches
Snowbasin: 612 inches
Deer Valley: 606 inches
TAHOE'S 700-INCH CLUB: Sugar Bowl has received the most snow among Tahoe ski resorts with 792 inches for the 2022-23 season. Located off Interstate 80 at Donner Summit, Sugar Bowl is nearing its record-setting 2016-17 season mark of 795 inches.
Joining Sugar Bowl in Tahoe's 700-club this season are Boreal (743), Palisades Tahoe (710), Kirkwood (708) and Soda Springs (707). Ten Tahoe ski resorts have received 570 or more inches this season, which is likely another record for the Lake Tahoe region.
CLOSING DATES, SEASON SNOW TOTALS