Following a weekend of harrowing weather that challenged the sanity of any skier or snowboarder wanting to brave the conditions, Tahoe ski resorts returned to some semblance of normalcy Monday.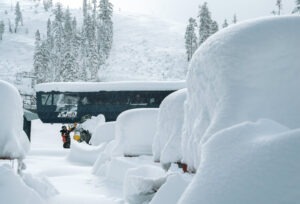 Although many weren't operating at full capacity, all 13 Tahoe ski resorts opened Monday, following a weekend of 3-4 feet of new snow, high winds, bitter-cold temperatures, and whiteout conditions.
Nine of Tahoe's 13 ski resorts were shut down all day Sunday and several resorts closed early Saturday due to severe weather conditions.
"Snow is falling and the winds are howlin," the Sierra-at-Tahoe message stated Sunday, succinctly summing up the weekend.
CHECK OUT TAHOE SNOW REPORT BELOW
Closed during the weekend, Interstate 80 was reopened by Monday morning and Highway 50 was easier to navigate. However, Highway 88 remained closed Monday from 3.5 miles east of Silver Lake to Kirkwood, and on the other side from two miles east to five miles west of Picketts Junction.
MONDAY POW DAY: It's been quite the season for snow in the Lake Tahoe region. As of Monday morning, seven Tahoe ski resorts were reporting 500 or more inches of snow for the season.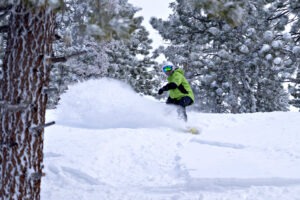 "I live in the snow capital of the United States right now," said Kevin "Coop" Cooper, who has worked in the Tahoe ski business for more than two decades. "This has been one of the most consistent and best snow packs we've seen in at least 30 years. This stuff is light and dry. This is not heavy snowpack."
Sugar Bowl got the most snow in the previous 48-hour period, reporting 54 inches (4½ feet) by Monday morning. The resort, located off Interstate 80 at Donner Summit, now has 585 inches of snow for the 2022-23 season, the most among Tahoe ski resorts.
"I hope you all have your snorkels ready because it is DEEP out there," a Monday morning message on the Sugar Bowl website stated. "We're working hard to get everything up and running safely, but I promise you that it will be more than worth the wait."
WEATHER FORECAST: The National Weather Service (NWS) is forecasting periods of snow continuing through Wednesday. Temperatures will remain well below normal for the next several days with wind chills dropping to as low as minus-25 degrees overnight in the Sierra backcountry.
The NWS says snow showers may be possible Monday afternoon with the best snowfall chances (80%) existing for the Sierra from Lake Tahoe north into northeast California. Snow showers may spill over into western Nevada by late Monday afternoon and continue into the evening.
Showers will decrease early Tuesday morning and there will be a brief break at least through mid-afternoon between waves. Snowfall could return Tuesday night with the system favoring the Sierra from Tahoe to northeast California.
The high temperatures through Wednesday may not reach 30 with overnight lows in the low teens. The highs from Thursday through the weekend are expected to hover around 40 degrees.
TAHOE SNOW REPORT (March 5-6)
Sugar Bowl: 23-31 – 54 inches
Tahoe Donner: 15-28 – 43 inches
Boreal: 38 inches
Soda Springs: 38 inches
Northstar: 16-21 – 37 inches
Palisades Tahoe: 21-15 – 36 inches
Homewood: 18-18 – 36 inches
Kirkwood: 19-15 – 34 inches
Diamond Peak: 9-21 – 30 inches
Sierra-at-Tahoe: 17-11 – 28 inches
Mt. Rose: 6-20 – 26 inches
Heavenly: 3-17 – 20 inches
Granlibakken: NA