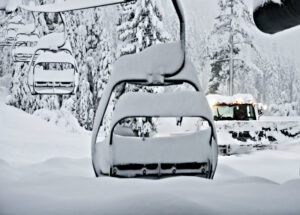 A major change took place Monday at Tahoe ski resorts – snowfall replaced sun-drenched days.
After unseasonably high temperatures most of last week, Tahoe ski resorts awoke to winter-like conditions and snow Monday morning (April 11).
Forecast models indicate Monday's weather system will deliver a foot of snow or more to the 7,000-foot elevation and above at Tahoe ski resorts.
The National Weather Service in Reno said "probabilities show a 50-60% chance for 12-plus inches of snow along the Sierra Crest from Yuba Pass to Sonora Pass."
SEE TAHOE SKI RESORT CLOSING DATES BELOW
The snow arrives one day after four Tahoe ski resorts – Diamond Peak, Homewood, Tahoe Donner, Sierra-at-Tahoe – closed for the season Sunday. Six other Tahoe ski resorts are expected to shut down for the season Sunday, April 17.
Sierra-at-Tahoe had a ceremonial 75th opening Saturday and Sunday after being closed for the entire season due to the impacts of the Calder Fire.
The Tahoe-area temperatures will also cool down some 30 degrees compared to last week's near record warmth with widespread freezing conditions likely overnight Monday and Tuesday.
"What a change! From the 40s and sunshine yesterday to the 20s and dumping snow this morning," a message on the Sugar Bowl website stated. "A strong cold front is arriving, increasing the snow and the wind. A winter weather advisory is in effect for as much as 17 inches of new snow by 8 pm Monday evening."
Tuesday and Wednesday are looking dry before another storm system rolls into the region Wednesday evening.
The weather service says by mid-week, a modest warming trend will put temps to near or slightly below seasonal averages. A weaker storm will move into the region Wednesday night into Thursday, bringing more snow and wind to Tahoe ski resorts.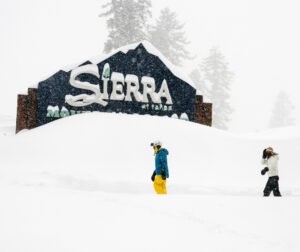 Unsettled conditions are expected through Saturday with a return to spring-like conditions possibly by Easter Sunday.
TAHOE SKI RESORT CLOSING DATES
Tahoe Donner: April 10
Diamond Peak: April 10
Sierra-at-Tahoe: April 10
Homewood: April 10
Boreal: April 17
Soda Springs: April 17
Mt. Rose: April 17
Northstar: April 17
Sugar Bowl: April 17
Granlibakken: April 17
Heavenly: April 24
Kirkwood: May 1
Palisades: May 1
Alpine Meadows: May 1