Snow began to fall Tuesday afternoon and is expected to be the largest accumulation of snow this fall in the Lake Tahoe region.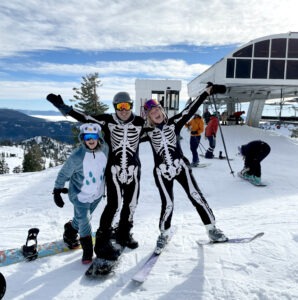 Could this sizable storm and the cold temperatures that have been taking place signal the beginning of ski season for Tahoe ski resorts? Heavy snow showers will stream into the Sierra Nevada Tuesday afternoon (Nov. 1) and persist through Wednesday.
The European weather model is predicting as much as 12 inches at Donner Peak and the rest of the region's highest summits. Both Kirkwood Mountain on Highway 88 and resorts like Sugar Bowl off 1nterstate-80 could see almost a foot and a half of snow when the storm concludes.
At least one ski resort – Northstar California – began making snow roughly 10 days ago. With the snow arriving and weather conditions ideal, expect other Tahoe ski resorts to also fire up their snowmaking equipment this week.
Weather and conditions permitting, both Heavenly and Northstar have plans to open for skiing and snowboarding Friday, Nov. 18, Kirkwood has a planned opening Friday, Dec. 2.
WINTER WEATHER ADVISORY: The National Weather Service (NWS) in Reno has a winter weather advisory in effect from noon Tuesday to 8 p.m. Wednesday. The NWS says up to 9 inches of snow could fall above 7,000 feet with 1 to 3 inches dropping at lake level.
The expected snow totals will make for dangerous driving conditions, especially as snow rates increase to half an inch of snow per hour along sections of I-80 and the rural highways that cut past some of the higher peaks — above 4,000 feet.
"Once the storm arrives, travel may be difficult or impossible for an extended period of time," an NWS statement said.
SNOWFALL LATE LAST SEASON: Tahoe ski resorts are not hoping for a repeat of last season when there was virtually no skiing or snowboarding during the important Thanksgiving holiday.
One can thank Mother Nature for the barren slopes. There was a promising snowfall in late October, allowing both Palisades Tahoe and Boreal to open prematurely on Oct. 29. However, rising temperatures and rain over the Donner summit halted skiing at both resorts following the Halloween weekend.
Tahoe ski resorts were almost unanimously closed until early December when the snow finally arrived. As of Dec. 3, 2021, the Tahoe region's 14 ski resorts had a combined one legitimate lift open for skiing and snowboarding.