In regards to snowfall, December 2021 will be an historical month to remember for Tahoe ski resorts.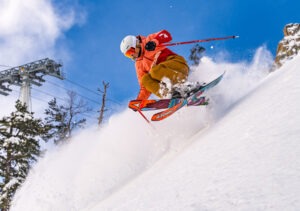 It was an epic month for sure. Mother Nature timely rescued the Lake Tahoe region and all of Northern California from a drought that was threatening to derail the 2021-22 season.
SEE LATEST TAHOE SNOW REPORT BELOW
One-third of the way through December, Tahoe ski resorts had just one non-beginner lift running, thanks to Boreal Mountain's ability to make snow.
If the weather had continued that same pattern, the Christmas holidays, Tahoe's most important period all season, would be a total bust.
On Dec. 12, the snow began falling heavily that evening and by the next morning four Tahoe ski resorts had received between 21 to 24 inches. There were 10 resorts that reached double figures in snow totals.
That was the beginning of snow totals in the Lake Tahoe region that some media and local residents have referred to as "snowmaggedon."
CENTRAL SIERRA SNOW LAB TOTALS: Located in Soda Springs on Donner Summit, the Lab has reported 212 inches of December snow, shattering the previous record of 174 set 51 years earlier in 1970.
It was a record December for snow and the third snowiest month overall on record in Tahoe. January 2017 is the record with 238 inches of snowfall, followed by February 2019 (221 inches).
This month's historic snowfall also broke the record for most snow from October through the end of the year at 266 inches. The previous record was 260 inches in 1979.
The snow totals have given Andrew Schwartz, the station manager and lead scientist at the Central Sierra Snow Lab, a reason to be cautiously optimistic regarding the drought.
"The record-breaking snowfall that we've had this December has brought us away from some of the pessimism that originally surrounded this winter," Schwartz said. "We have plenty of snow for the resorts and we now have a solid base of water storage in the snowpack."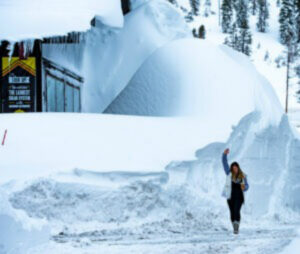 HIGH SIERRA SNOWPACK: The Department of Water Resources reported 78.5 inches of snow Dec. 30 at Phillips, located off Highway 50 near Echo Summit. The elevation of Phillips is 6,873 feet.
The first major Sierra snow survey this winter reinforces a reason for optimism this ski season and more importantly, for California's drought issues.
The state just finished its second-driest year on record and many of the state's reservoirs that supply water for tens of millions of people were at historic lows.
The snow totals at Phillips were 202 percent of average for that location and 82 percent of average for how much snow would fall there by April 1, typically what the water resource folks consider the end of the state's snow season.
"Obviously we are off to a great start," said Sean de Guzman, who manages the water department's snow surveys and water supply forecasting unit.
NEW RECORD AT PALISADES: The resort, formerly known as Squaw Valley, concluded December with a record 211 inches (nearly 17½ feet) at its summit.
It was the resort's snowiest December on record since getting 172 inches in 1970. Over its previous five seasons, Palisades ended December with an upper mountain average of 49 inches.
TAHOE SNOW REPORT (Season Snow Totals, thru Jan. 2)
Boreal: 286 inches
Northstar: 276 inches
Mt. Rose: 275 inches
Palisades: 265 inches
Homewood: 262 inches
Sugar Bowl: 258 inches
Diamond Peak: 210 inches
Kirkwood: 210 inches
Tahoe Donner: 196 inches
Heavenly: 180 inches