Two recent constants were evident again Thursday at Tahoe ski resorts – snow and wind.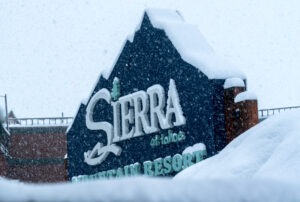 For the most part, the snow totals weren't overly impressive Thursday morning (Jan. 5) at Tahoe ski resorts. But that changed early in the day and will be apparent Friday when the latest snow totals are reported. The snow is expected to be heavy throughout Thursday and come morning might be measured in feet – not inches.
Forecasters expected 4 to 8 inches of snow between Wednesday and Friday morning in the Tahoe region above 5,000 feet, with 1 to 3 feet possible higher than 6,500 feet.
Sierra-at-Tahoe was reporting 18 inches of snow Thursday morning at its summit, easily the most among Tahoe ski resorts. Kirkwood had 13 inches, while both Mt. Rose and Heavenly got 12 inches. There were six Tahoe ski resorts reporting 6 inches of fresh snow.
"We are expecting an additional 10-18 inches of snow by Friday morning," a blog on the Sugar Bowl website said. "That would put us right into the final forecast range for the storm of 1-2 feet."
CHECK OUT TAHOE SNOW REPORT BELOW
The upper regions of Palisades Tahoe and other Tahoe ski resorts were experiencing high winds and having to shut down lifts Thursday. There was a report of a 102 mph gust at Alpine Meadows. Palisades Tahoe was reporting winds of 60-70 mph at its ridgetop.
"While the weather is deceptively calm on the lower mountain, it's often a whole other planet at 8,200 feet with howling winds and blinding snow," Palisades Tahoe wrote on its Twitter account.
On the roads prior to the evening hours, Highway 50 and Highway 88 were closed for a time for avalanche control. Interstate 80 remained open with chain controls and Old Highway 40 was closed due to the snowy conditions.
SIERRA SNOWPACK: The first Sierra snowpack survey of the season occurred Tuesday and was way above average at 177 percent for the location.
The Department of Water Resources (DWR) conducted the survey at Phillips Station, located near the entrance to Sierra-at-Tahoe. The DWR reported the snowpack is at 174 percent of the historical average for this time of year, an impressive amount due to a stormy December. The snow was at a depth of 55.5 inches – enough to store 17.5 inches of water.
More than 2 feet of snow is possible through Friday according to the National Weather Service and more storm systems are lining up into next week. But officials caution that last year was also well above average at the beginning of the year before three record months of dry weather resulted in one of the smallest packs on record.
"Big snow totals are always welcome, but we still have a long way to go before the critical April 1 total," a DWR spokesperson said. "It's always great to be above average this early in the season, but we must be resilient and remember what happened last year. If January through March of 2023 turn out to be similar to last year, we would still end the water year in severe drought with only half of an average year's snowpack."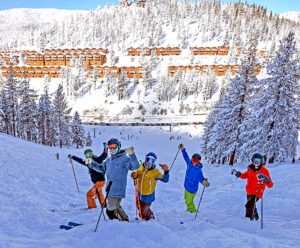 TAHOE SNOW REPORT (January 5)
Sierra-at-Tahoe: 18 inches
Kirkwood: 13 inches
Mt. Rose: 12 inches
Heavenly: 12 inches
Homewood: 8 inches
Sugar Bowl: 7 inches
Boreal: 6 inches
Soda Springs: 6 inches
Tahoe Donner: 6 inches
Northstar: 6 inches
Palisades Tahoe: 6 inches
Diamond Peak: 6 inches
Granlibakken: 4 inches